Under a Full Moon (Slate Mountain Wolf Pack #1), Sammi Cee, Michelle Frost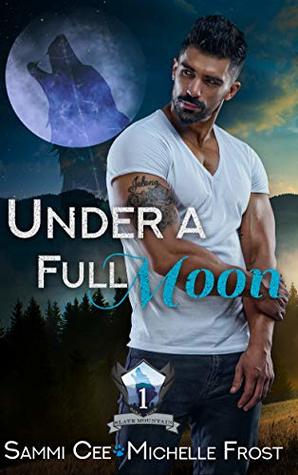 Rating: 3.5 Stars
Publisher: Self-Published
Genre: Gay Paranormal Romance
Tags: Fated Mates/Insta-Love, Motorcycle Club, Opposites Attract, Paranormal, Romance, Series, Shifters, Small Town Politics
Reviewer: Cindi
Purchase At: Amazon.com
***This review has slight spoilers.***
Blurb –
Ethan Slate 
As President of the Slate Mountain Wolf Pack Motorcycle Club, being Alpha to a pack of wolves was something I was born to do. Same with riding a motorcycle and standing vigilant against all threats to our little mountain town—even when those threats come from within. Most of the humans here don't know what we are. They only see tough men on bikes with leather vests, marking us as outlaws. The facade keeps our secret and the town of Slate Mountain safe. When my mate shows up with the summer breeze, all seems right with the world, until trouble stirs and I have to use all my resources as a man and wolf to protect him and the town we both love. 
Brice Wallace 
As the mayor's son, coming home after graduating from college is an eye opening experience. I'd forgotten how small town politics could swallow people whole and point men down paths of greed. Now that my eyes have been opened, there's no going back to the blissful ignorance of before. When I meet Ethan, I know he's the one for me. Being with Ethan, leads me further away from my father's plans and deeper into the secrets of Slate Mountain even as it puts me directly into the path of the newest threat to our sleepy little town. 
Welcome to Slate Mountain where magic and motorcycles roam the streets, love flows as pure as mountain spring water, and the wolves are always guarding the door. 
Under A Full Moon is a 32,000 word novella featuring an M/M romance and an HEA. It is the first book in a four part series set in the same world and while each book focuses on a different couple the overall story arc continues on in the next installment. It is recommended the books be read in order. 
Review –
I'll start with the two main characters.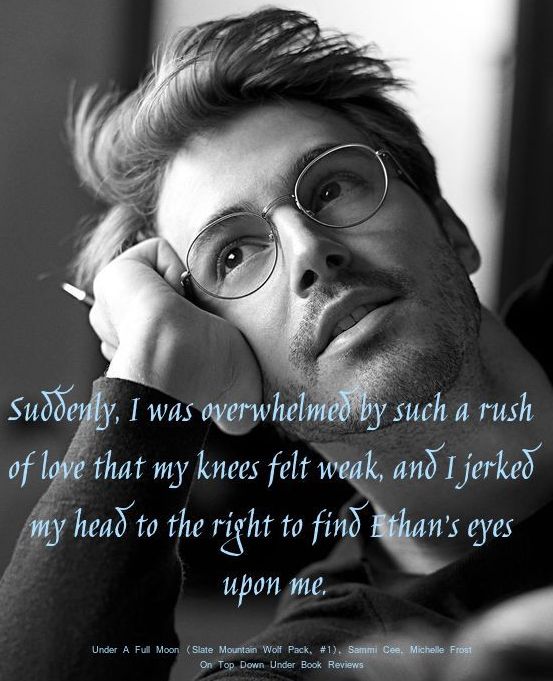 First, there's Ethan. Ethan is the president of the Slate Mountain Wolf Pack Motorcycle Club. He's also the alpha to his pack, though the fact that they're actual wolves isn't known by many. Some of the locals see the MC as a menace. They see them riding their motorcycles around town looking for trouble. This isn't true, of course, but you know how small towns work. Others, however, know that the club consists of good people who are actually looking out for, protecting, the town. There's more to the Slate Mountain Wolf Pack than meets the eye.
Second, there's Brice. Brice has just come home after being away for college. The son of the jerk mayor, Brice is expected to follow in his father's footsteps. Thankfully, he knows his dad is a pompous idiot. Those are my words, not his. 😉 He may have grown up being taught one thing by the man, but Brice knows he's wrong when it comes to the citizens of the town. The mayor is power hungry and doesn't give a damn about anybody but himself.
One morning Ethan and his sergeant-at-arms are walking into Caroline's, a coffee shop, when he stops short. He scents his mate. When he turns around he sees Brice, who's looking at Ethan like a deer in headlights. He wastes no time before he's trying to get to know him. Needless to say, Brice even being seen with Ethan is a big no-no because his father would like nothing more than to run Ethan and his gang out of town. It doesn't matter that Ethan's so-called gang founded the town generations ago. All the mayor cares about is himself and, again, power.
Things come to a head over the sudden problem of homeless teens. The shelter isn't big enough to accommodate them all. It also doesn't help that the mayor and his cronies want the shelter shut down for their own heartless, bigoted reasons. I can't go into a whole lot about that particular part of the story without giving too much away.
There's a bigoted pastor who has his own agenda, a sweet security guard who is more of a father than Brice's biological one, and a sheriff who I consider to be one of the mayor's cronies. The sheriff's story is up next. It will take a lot for me to like the guy after what I saw in this book.
The closer Ethan and Brice get, the more problems arise, but they're settled rather quickly. Perhaps too quickly.
What I liked –
Ethan. A bad boy driving a Harley. Enough said.
Brice. A glasses-wearing good guy. I love a guy in glasses, so there you go.
The rest of the pack. They accept Brice as their alpha's mate without question.
Most of the secondary characters.
It kind of had a Sons of Anarchy vibe without being overwhelming. I've read a couple of other motorcycle club books recently that were a bit much. The females were treated inferior. I didn't see that in Under A Full Moon.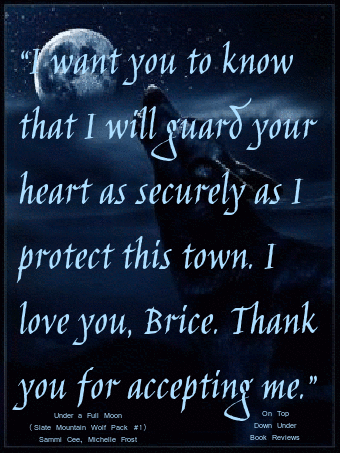 What didn't work for me, aside from the obvious (the mayor, the sheriff, the pastor) –
Early in the book Brice stands up to his father. It's so stressful that he literally has to run to the bathroom afterward to throw up. He was terrified of his father but he didn't even attempt to be discreet in the early days of him and Ethan, knowing how much his father absolutely hated the MC? I'm not saying hide. That's the last thing they should've done. My point is that the authors made a point in showing his fear (re: him getting sick after a confrontation) but that fear suddenly disappeared? I didn't buy it. It was contradictory.
There's a bad guy in the book (aside from the ones mentioned above). Not a whole lot of time is given to this person, but even so, I knew who it was immediately. I even figured out his secret. I may not have known specific details, but I didn't have to.
The homophobic religious zealots are so common in books these days that I have a hard time finding one without them. I didn't find this to be very original. I'm going to hope there's more to it than what I've read so far. I know it's a series so I'm keeping an open mind.
Not a whole lot was given to the wolf side of the pack. I hope that changes in future stories.
Mr. Mayor. That's all I'll say about that.
Overall, I did enjoy the book. I loved Ethan and Brice together. They were so different but seemed to work right off. I will be reading the second book, but I'm not going in with high hopes. I've already mentioned the sheriff and how I did not like him at all. I do, however, like his love interest, Jace.