Doubling Down (Double Trouble #2) Cari Z & L A Witt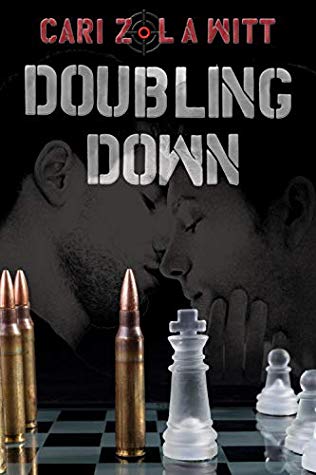 Rating: 5 Stars
Publisher: Self Published 
Genre: Gay Romance 
Tags: US Marshal and Mafia Witness, Ex Marine, PTSD, Witness Protection, MCs On the Run, Humour, Some Minor Violence, Opposites Attract, Romance, Contemporary Setting 
Length: 202 Pages 
Reviewer: Kazza
Purchase At: amazon
Blurb:
Hacker Leotrim Nicolosi and Deputy Marshal Rich Cody may have escaped a vengeful crime boss by the skin of their teeth, but they're not out of danger yet. With the mob's tentacles embedded in everything from local law enforcement to federal agencies, the guys are running low on allies.
Rich has one ace up his sleeve—the men who had his back in warzones during his time in the Marines. When he sends out a distress call, the cavalry comes running. Heavily armed, highly trained, and fully provisioned, they hunker down in a buddy's missile silo, ready to make a stand against whatever the Grimaldi family sends after Rich and Leo.
Leo isn't so sure about the Marines, though. He trusts Rich, but something isn't right, and he's not a gambling man when his life is on the line. The Marines aren't so sure they trust him, either, and Rich suddenly finds himself in a standoff between the men he's bled with and the man he's quickly falling for.
Now they're running out of time to either find the turncoat among them or get on the same side.
Because the Grimaldi family is coming, and this time they're bringing out the big guns.
Doubling Down is the sequel to Double or Nothing, and is the conclusion to the Double Trouble duology.
Review:
Doubling Down carries on Leo and Rich's story immediately after the end of Double or Nothing. Leo is still a witness and Rich is the last US Marshal standing charged with Leo's safety. Only it became a lot more personal than a witness and law enforcement minder in the first book.
He'd been hot from day one, but now he had a bit of that action movie hero thing going on, and I was apparently losing my fucking mind because I was ogling my battered…partner? Friend? I didn't even know what to call him. Technically he was my witness, but things between us definitely weren't just professional anymore.
They've not long escaped one hell of a shootout in Chicago and are on their way back to Smitty's isolated silo in Colorado. The 'troops' are also being called in in the form of Rich and Smitty's ex-Marine buddies because Leo is on Lorenzo Grimaldi's hit-list and Rich would also be a nice prize. A number of Grimaldi's 'soldiers' have escaped the police and the marshals and are apparently heading Leo and Rich's way, and they're not in a forgiving mood. Matteo Grimaldi is currently awaiting trial and it would be nice if a key witness, say Leo, is dead.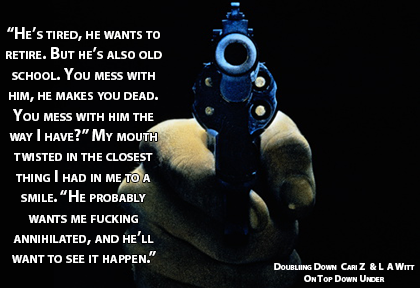 There are several concerns with the plan to bring in the 'Marines' for Leo. He doesn't know these guys, and he doesn't trust lightly. Life has shown him just what happens when you give people too much information or belief. Leo has total faith in Rich as he's done nothing but have his back, even when Rich's own family were in the crosshairs he stayed dedicated to Leo's safety. Likewise, Leo has been there for Rich when he's had debilitating episodic PTSD and flashbacks. When Leo could have easily slipped out he's never once bailed on Rich. Smitty is kind of okay with Leo because Rich, or Smoker as they call him, believes in him, but as Rich and Smitty's guys turn up, most struggle with Leo being a criminal and Rich's dedication to him – he should only trust the guys he's served with. Leo has his concerns, anyone can be bought off, and something he witnesses when doing his own reconnoitring reinforces his feelings.
While this book is not as go-go-go as Double or Nothing, I was on the edge of my seat for a different reason. It was incredibly suspenseful. I didn't want anything happening to Leo or Rich. There were also people I liked I didn't want to see selling Leo out. Rich felt torn between his buddies and Leo. Leo wanted to make Rich feel comfortable in an uncomfortable situation. There were friends putting ideas in Rich's head about Leo. Leo was on edge and did what he had to to make sure the people who counted were safe, which made some of the guys feel twitchy around and about him. Where Double or Nothing was a more high-octane road trip tale, including more moving action and violence, Doubling Down is a far more edgy/suspenseful book. There is also some violence. Who's the mole? Why? Will Rich believe one hundred percent in Leo like Leo does in him? were important factors. I didn't know who the leak was. I found myself suspecting everyone, including Gianna Grimaldi who suddenly turned up at the very off the grid silo. I really liked Gianna, she's ballsy and perceptively straight up and down.
 "You're a fox, Leo, surrounded by a pack of wolves. Different types of predators, different kinds of strength. I know you trust your marshal, but when you're outnumbered like this, it pays to have backup."
I snorted. "Are you a fox too, then?"
Gianna grinned at me. "Hell no. I'm a hyena. Matriarchal, and way bolder than you or them. I do what needs to be done and don't look back."
Leo was glad for her support in amongst the 'wolves' because she'd previously supported him over her own family especially after they killed her brother, his lover, Tony. But she wasn't without motive if you let your mind mull it over. No one was. Let's put it this way, fingernails got close to being chomped.
I raced through this book. The writing is strong, seamless, enjoyable, the characterisations across the board totally engaging, with the romance developed well. Reading this was incredibly entertaining, humorous at times – tampons, you have to read it – touching at others. While the suspenseful side is so well done I waited with bated breath for the outcome… and I was angry at anyone who dared interrupt me.
I adore Leo and Rich and often found myself clipping notes of both their thoughts, but with Leo's I found I'd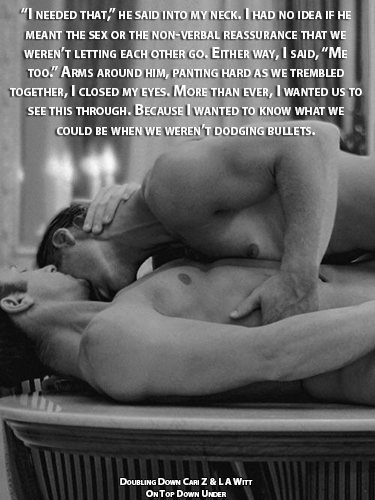 written Awww, Leo next to them repeatedly. I laughed as I looked back at my pattern. Clearly Leo's loyalty, dedication, and selflessness, and his quick-witted, street-smarts side appealed. Rich is such a good guy and he's fallen head over heels for someone that goes against who he appears to be on the surface, but not at the core. No. At the core these  men are a perfect match – and the series is definitely romantic. Nothing says I love you quite like someone being there for you and holding on through the hard times. The romance was wrapped up nicely in this book.
I know both of these authors can write more sex in their books as suits, so for the readers who need to know, there is one sex scene on page in both books and that's all that was needed. It's nice when everything makes sense in my reading, and that includes intimacy – and the plot, action, connection, overall storytelling of Doubling Down was right in the reading Goldilocks Zone.
I'm happy for Leo and Rich's HEA, they deserve some nice times and love ahead in their lives because they're great characters and, boy, they've been through the proverbial wringer. I hope they live long and well but I'm going to miss them. To the authors, please co-write more stories, and soon. 5 Stars!