More Than Ever (More #3), Sloan Parker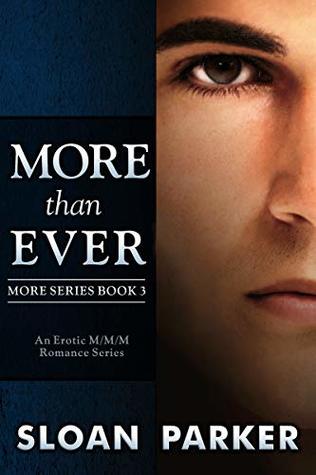 Rating: 5 Stars
Publisher: Sloan Parker Press
Genre: Gay Romance 
Tags: Menage, Mystery/Suspense, Sexy Romance, Series
Length: 323 Pages
Reviewer: Kazza
Purchase At:  amazon, Sloan Parker
Synopsis:
Matthew, Luke, and Richard return in this third installment of the MORE series.
These three men have weathered a lot, and their love for one another is as strong as ever. Yet Matthew Stewart, the youngest of the threesome, can't help but feel like he's made one too many mistakes lately, both with his men and his future. His perfect life is starting to crumble around him. Haunted by a past he's never truly faced and struggling to find his place in the world, he sets his sights on a new dream job at a wildlife rehabilitation center. With more than just a great job on the line, he refuses to turn his back on someone in need. A favor morphs into danger as Matthew, Luke, and Richard face a week alone in the wilderness, looking for evidence of either an accident or a crime. With no hiking experience and armed strangers trying to hunt them down, these three men will learn to lean on each other more than ever. And in the process, they just might heal more than one old wound.
Length: 112,018 words. This book contains explicit sexual content, graphic language, and an all-male menage relationship.
PROBABLY BEST TO HAVE READ BOOK #2 BEFORE THIS REVIEW

Review: 
This is the third book in the More series and this time Matthew Stewart gets his POV just like Luke and Richard have before him. Matthew has always been a sweetie in this series, gentle and thoughtful, and he remains so in this book. It's lovely to see things from his POV. You can understand why Richard and Luke feel protective of him quite often, but having said that, they don't smother him either. In More Than Ever it's time for Matthew to find who he is and where he's going.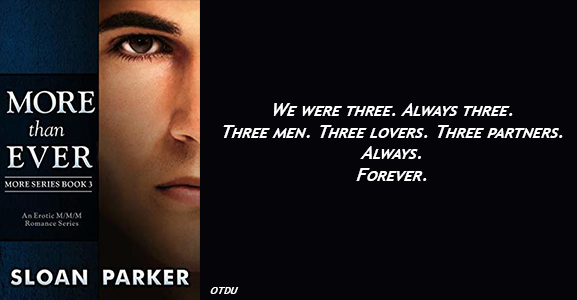 In More Than Most, Richard's book, there was an incident around fisting that created some doubt in the three men. Richard and Luke were left feeling guilty about nearly doing something that frightened Matthew. Matthew feels awful about having agreed to something he didn't really want just to please them, especially given both Richard and Luke are easy men to be open with. They want to know everyone is okay with what they do. Now, all three of them have feelings of shame that has clouded their full connection for several months, but not all of them are consciously aware that's what's been going on. Matthew is though.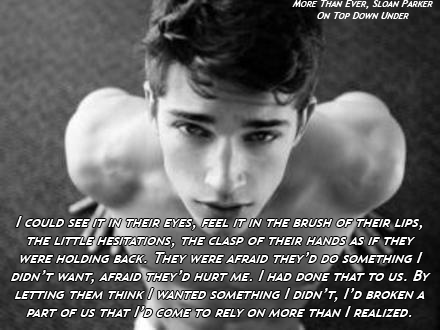 Matthew has also been interviewing for an internship in veterinary medicine without any success. This leaves him feeling more uncertain than ever before. He is proud of his nuclear family and he tells anyone readily, including interviewers, he is in a poly relationship. Luke isn't sure he should do that but Matthew sees the good in people and only wants to work for people who are okay with who he is and who he loves.
Luke straightened, his entire body tensing instantly. "You told him? About us?"
I nodded.
He kept gaping at me, then gestured between the three of us. "About… our relationship?"
.
His latest interview at a wildlife centre – Windtree – went well. This is a job Matthew really wants, working within the Majestic Falls State Park with wild animals. Dr Alex Vega also seemed like a great guy and like he was keen on Matthew for the role, even Alex's family seemed to like him, but it's been weeks since the interview took place. Perhaps another internship has passed him over. Maybe Luke was right about being more circumspect about his partners. Other college friends are getting placements, and Luke and Richard are both working hard. Matthew is struggling to find the connection he had with his two lovers and he feels lost about work prospects. He's also been having nightmares centred around his dad and has a sudden need to find out where he is and why he went from a loving father to a violent alcoholic. The last great memory he has of his dad is a trip they took to Majestic Falls and it seems the interview at the wildlife centre, his love life, his general uncertainty have all collided to cause more worry for Matthew.
Eventually Dr Vega calls and leaves a message telling Matthew they have been busy at the centre but he is the successful candidate for the internship. Matthew's joy is short-lived as he hears on the news that the doctor has gone missing. Couple this with an unexpected visit from Alex's son, Tomas, to tell Matthew that the local sheriff isn't listening to him, could Matthew please go and talk to him, and Matthew, Richard, and Luke are soon heading out to the park, getting embroiled in a mystery surrounding the doctor.
This is a book of two parts. The first, and foremost, is about their relationship. There isn't any doubt about their love for one another, because that's always built on solid ground, but it's their various feelings about the guilt and shame around the reasons behind one sexual incident. It's compounded by Matthew's uncertainty about what he provides to anyone because he's feeling lost and insecure right now. Matthew is the youngest partner at twenty-four, Luke is thirty-five, Richard is forty. They're a great mix together but, still, there is an age gap. Matthew is just on the threshold of what lies ahead in life for him, realistically this can make things seem more daunting, especially to a younger partner, especially when other aspects of your life aren't okay. It's all believable and it's well handled.
"Matthew?" Richard's voice held a soft, patient tone. He was waiting for me to say more.
"I'm okay. It's just that as much as I loved my dad, that was the day I realized he hid something very dark and damaged beneath the surface."
The second component of this book is the three men taking on finding out what has happened to Alex Vega. They don't know him, Matthew had one interview, but Matthew's made a promise to Tomas and he agrees with Tomas that Alex is a good man who wouldn't have just up and left his family as the sheriff is saying he has. There has to be more to it. More than Ever has a fantastic mystery/suspense story as one of the main arcs, just like the two books prior had terrific mystery/suspense as part of their story as well. Matthew, Richard, and Luke find themselves neck- deep in shady shenanigans and being hunted in Majestic Falls. Even though they just intended to talk to the sheriff, Matthew can't let his gut feeling go that Alex is out there, and his passion draws his two men in further alongside him. The imagery of their surroundings in the park is vividly drawn, a beautiful backdrop, the suspense had me nearly keeling over a couple of times, one moment in particular was not good for my heart, and my Kindle was close to being airborne.
Bits and Pieces: 
One of the things I love about this series and these guys is they talk things out before something can hit the proverbial fan. They do this 99% of the time, they believe in resolving things, but that 1% has been missing lately. Matthew has a lot going on with college and looking for an internship. Luke is flat out at work. Richard is very involved with his development of the Griff Harrison Community Centre. They're all busy and tired. They've also been through some trying times together. One of the things I love about the More series is the organic communication, and the care is never feigned or forced. Richard is a huge driving force behind that communication and he remains my guy. I loved being back with Richard – you too Luke and Matthew ? If someone feels sad, distant, different, they step up their communication, and they can also get down and dirty with the best of them – amen to that.
The mystery/suspense of each book always adds to the overall story. The guys have to work that bit harder for their relationship, which is my favourite kind of writing. Most of all, they have continued to develop further as individuals and within a poly relationship and the trying times always help make them more solid.
The book is also very much about how all three have grown in this relationship: Luke is now declaring his feelings, something he couldn't do before, Richard is still the voice of reason and very protective, but he's learnt that he can be as imperfect as anyone else and that's okay. While Richard might have been the catalyst for the three of them getting together in the beginning, they are long since emotionally invested and committed to one another.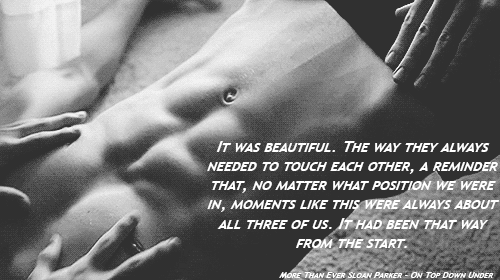 The sex is damn hot. The men work well together and their kissing is off the freaking charts – I love these guy's kisses, the heat and passion behind them. Speaking of, the overall passion is still very much alive and burning brightly within these men, something that's not always easy to maintain in an ongoing romance series. When they are together there is the powerful aspect of complete love with emotional connection.
Overall:
Sloan Parker is a quality storyteller. This series showcases her writing prowess very well. Her books offer so much love, joy, and comfort, and reading More Than Ever really felt like coming home for me. Richard, Luke, and Matthew are three of my absolute favourites, and this series will always hold a special place in my heart. Matthew was an adorable character from the start, he had some real emotional growth in this book. Very fitting. Luke took me some time to warm up to at first but Luke developed the most over the series. His growth has been phenomenal and he is a wonderful man in spite of his horrid family. However, my heart belongs to Richard. I loved Richard Marshall from the very beginning, and I always will. It was his generous and determined spirit, his belief in communication and their ability to be a committed relationship that made Luke and Matthew stop and stay, their love took a hold from there. He offers to go house hunting with them in this book so they never feel like this is his house only, that's who Richard is, but the men love where they live, it holds special memories already so they're not going anywhere.
This really is a case of home is where the heart is, and these men's hearts firmly belong to each other, for now and  forever. I can't thank Sloan Parker enough for Richard, Luke, and Matthew. They have given me one hell of a journey and if this is where it ends, well, I'm teary – misting up as I type – but I'm so happy for them. Bye, Richard, Luke, and Matthew, you are loved by so many of us. Live long and love hard. 5 Stars!