Tortilla Pie: A Recipe For Romance, Rick R. Reed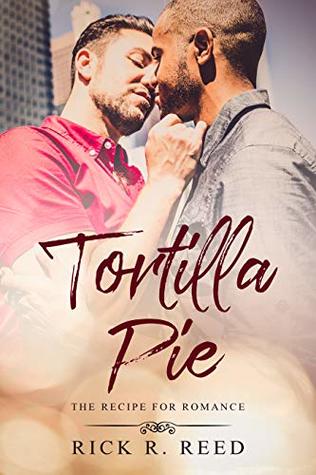 Rating: 4.5 stars
Publisher: RCubed Books
Genre: Gay Romance
Tags: Contemporary, Interracial Couple, Opposites Attract, Romance, Short Story
Length: 32 Pages
Reviewer: Cindi
Purchase At: Amazon.com
Blurb –
When Anderson, homeless on the streets of Seattle, first spies Josh, a volunteer at TeenCare, he immediately falls for him, even though TeenCare forbids client/volunteer interaction. Anderson thinks: "And speaking of noticed, I think I was, just a few minutes ago. One of the volunteers was coming by and we locked eyes. You know, the way two guys do. Two gay guys, anyway, who like what they see. It's not like a casual glance—those only last for a second or maybe two at the most—but when two gay dudes notice each other, man, that eye-to-eye lingers. You know what I'm sayin'?
"And that boy? He was fine. Or to roll back to one of my mama's expressions from back in her day—he was fly."
In spite of the youth center's policy of volunteers and clients interacting beyond the most superficial ways, will love discover a way around the policy, so Josh and Anderson can be together?
Review –
This is a super short story so I can't really say too much in my review.
Josh is a twenty-five-year-old volunteer for TeenCare. Walking into the building one day he spots Anderson in line for lunch. Or should I say locks eyes with Anderson. There's a serious instant attraction, but Josh knows he can't act on it. Getting too friendly with the clients of the center can have him and his team (through work) thrown out of the volunteer program.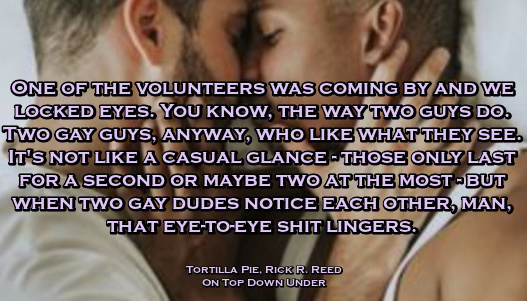 Anderson is one day away from his twenty-first birthday, the day he ages out of TeenCare. When he spots the hot volunteer (that would be Josh) he knows he shouldn't flirt but he does anyway. Something happened when they saw each other and damn it if Anderson isn't eager to find out what it was. He knows Josh is attracted to him. That much is obvious. But the differences between the two men are glaring, one of which being that Anderson is homeless and Josh isn't.
When they're able to speak privately, things start looking up for the two guys. Unfortunately, I can't say more than that without giving the ending away.
This is a sweet story. I can't call it a full-on romance. It's more like the beginning of one. I know I've enjoyed a story when I end it wanting more. I didn't want more because I didn't like the ending. The ending of Tortilla Pie was (in my opinion) perfect for the story line. I was wanting more because this author always has me wanting more.
This is the first book I've reviewed in several weeks. It's not because I haven't wanted to read. It's because I've been traveling all over the place and have simply not had the time to really sit down and concentrate. If you've followed my reviews you know my love of Rick R. Reed's work. He's always my go-to after I've been away for a while.
Overall, another really good story by this author. I'm hoping to play catch up with his longer ones soon.