A Is for Aftercare (The Alphabet of Desire, #1), Colette Davison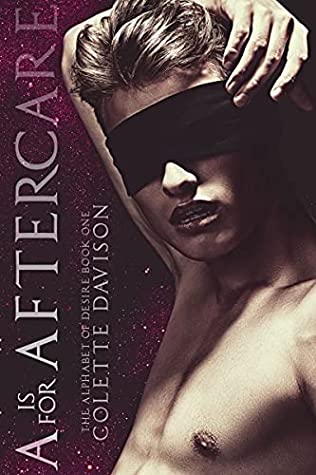 Rating: 3.5 Stars
Publisher: Colette Davison
Genre: Gay Erotic Romance
Tags: Contemporary, Age Gap, BDSM, Employer/Employee, Kink, Opposites Attract, Romance, Series
Length: 324 Pages
Reviewer: Cindi
Purchase At: Amazon
Blurb –
A famous author, a new job, and a party with a difference. Are these the makings of a perfect romance?
Archie
Never in my wildest dreams did I expect to end up working for my #1 favourite author. Nor did I expect him to love being called 'Sir'. An invite to an adult party changes everything. Will Hamish order me to my knees or throw me out?
Hamish
The moment I first set eyes on Archie Morris, he becomes my secret muse. Words I've been struggling to write pour out of me. He's my PA and twenty-three years my junior, none of that matters when he shows up at my private party, ready to play. One night leads to so much more. Will Archie see beyond our differences to what I'm offering him—my heart?
A is for Aftercare is the story of two men falling in love, while they explore their desires together, which include blindfolds, sensory play, and lots of cuddles. It's the first of three steamy, low angst novels, which follow each of the ABC triplets as they find love. You can read Blake and Corey's stories in B is for Beg and C is for Comfort.
Review –
Hamish, 47, is a successful author who can't keep personal assistants because he's a bit of an ass.
Archie, 24, is a personal assistant in desperate need of a job. He meets with an agency in hopes of at least scoring an interview somewhere. He gets the interview, all right, and what do you know? It's at the home of his all-time favorite author. His first order of business during said interview? Make his hopefully new employer a cup of coffee.
Not quite in the job description, but whatever works, right? Apparently Archie's coffee making skills are good because Hamish offers him the job on the spot. It's kind of awkward for both guys right off because they're both lusting after the other, with Hamish even secretly starting a new book with him and Archie as the main characters.
Hamish has had a bit of writing block. He has a deadline coming up soon and he knows the latest book in his popular series is junk. That's confirmed when he has Archie – a big fan of the series – read it. Archie agrees it's junk, though he's too nice to use that word. He's read everything Hamish has ever written so he has a great idea for the latest book. That idea has Hamish rethinking it all and writing what will likely turn out to be his best book in the series.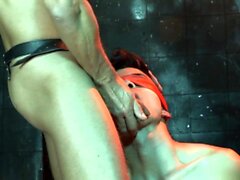 What Archie doesn't know (but this comes out later) is that Hamish writes gay erotica under another pen name. Archie, of course, has read all of those as well, not knowing his favorite author wrote them.
It takes all of three days (if I'm remembering correctly) before they're taking their relationship up a notch. This happens when Hamish's friends get a little sneaky and find a way for Archie to show up at a kink party that's being held at Hamish's place a few days later – a kink party that Hamish had Archie plan without Archie knowing exactly what he was planning. Apparently, Hamish hosts these parties once a month or so.
Long story short, Archie shows up at Hamish's place with his brothers Blake and Corey – they're triplets – and Archie decides to put himself out there.
Two things are clear: Archie and his brothers are triplets, and my arsehole best friends conspired to get them all here.
If Hamish makes a move, great. If not, then they'll definitely have to rethink their little working arrangement. No worries, though. Hamish is all over it.
And this is when things take off at warp speed.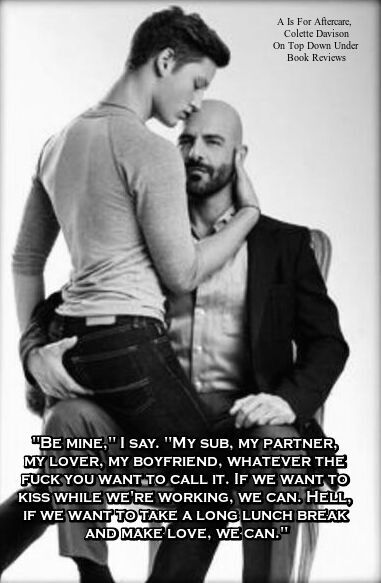 Hamish is a Dom. Archie is a sub. What starts during the kink party moves on to before and after their workdays. Not during because that wouldn't be professional. Archie arrives early and leaves a little later every day, Monday through Friday. There's a morning blowjob and after work sex. It seemed so… I don't know, bland? They're both all about kink – with Hamish taking each experience up a few levels – but it didn't feel as if these before and after work hookups were anything more than Archie dropping to his knees and bending over. It almost came across as his duties to his employer, though Hamish made it clear the sex and work were two separate things. Only when Hamish opens up a little, and admits he wants more, do they move on to what would be considered a relationship of sorts, and not just a work one.
Then there are Archie's brothers, who'd both gone to the first kink party with Archie at Hamish's house.
I'll start with Corey. Corey, bisexual, is a single dad to five-year-old Lexi. He's an art teacher who has only just gotten his first teaching position. He's stressed to the max and barely has five minutes with his little girl, much less to do things for himself.
There's also Blake, a model, who's pansexual. Blake is kind of all over the place. Where Archie is super organized (to the point of being anal), and Corey is just so responsible, Blake doesn't have a 9 to 5 job. He never knows when or where he'll have photoshoots, and he's more than a little scattered.
He's not really, but his brothers, like their horrible parents, only see what's on the outside with Blake.
Outside of their looks, the triplets are as different as night and day but they're all very close. So close they even share the same kinks – kind of. I think what I really loved about the triplets, outside of their love and care for Lexi and each other, was how there was no secrecy or weirdness or anything over their individual kinks. Hell, they'd gone to the first kink party together and thought nothing of it, with Archie even seeing one of them openly having sex as he and Hamish were making their way to their own little playroom.
I liked Hamish and Archie together to an extent. My only real issue with them is how things DID happen so fast. I had no desire to read page after page of them dragging things out when it was obvious they wanted each other, but they literally went from a day or two of working together to the hardcore kinky stuff. And, honestly, it was too much. I don't have a problem with BDSM or whatever kinks a couple may or may not have. My problem was how there was so much of all that happening that I didn't really feel the guys together outside of it. When I felt they should be having the 'getting to know you outside of sex' time, Hamish was introducing something else – hot wax, ginger root, ice dildo, etc. There were a couple of 'meet the family' type meetings away from Hamish's house. He had dinner with all the triplets and was able to meet Lexi, who I adored because she was always wanting to paint their nails or do their makeup. She was adorable. There was also a rather uncomfortable and awkward lunch with Archie's mom and dad. Archie's dad was a bit of a jerk a couple of times about Archie and Hamish's age difference and even Archie having a life of his own outside of his brothers and niece. He didn't, however, have a problem asking Hamish to autograph books that he brought along to the restaurant for him to sign.
One thing I did like about the book was a commitment ceremony of sorts for Hamish and Archie, the only guests being Hamish's friends and Corey and Blake. There are a few other sweet moments but with each one came another scene that kind of took away from it.
The BDSM in this book is good. The author made a point in explaining things in detail, including the safety aspects of what was happening, though I felt she went a little long on almost every scene. This is especialy true with the aftercare. I know aftercare is in the title, but the aftercare in his book after each scene went on for page after page after page. It was nice. It was sweet. I loved the cuddling. I also know it's important, especially after the more intense scenes. But, it was too much of a good thing. I don't normally skim, but I found myself doing so in a few places in this book. I'm not saying it wasn't sexy. It was. It was simply, again, too much of a good thing, I suppose. Others might not agree.
Overall, a good book. I liked Archie well enough. He was kind of bland, I guess I could say? I'm sure he had a personality but that personality was overshadowed more often than not by what was going on around him – his brothers, his niece, and most notably, Hamish. I did like Hamish. He knew he wanted Archie and wasn't shy about making it known once he got over the employer/employee thing. Surprisingly, he was also the one who could really be sweet. He was the first one to declare his love. He's the one who made it clear he wanted a forever thing with Archie, not just an occasional hookup. He was gruff, and he was very blunt when he felt the need to be, but he was also a softy when it counted. I think I would've liked Archie more had he not gone from major fanboy to kneeling in practically no time at all. I also wanted to feel what he was feeling more, instead of being told what he was feeling.
Even so, I liked Archie and Hamish together. An unconventional relationship but it worked, though I ended the book wondering how they would work longterm. They're as different as night and day, with the only things they really have in common being their sexual wants and the fact that Archie is a fan of Hamish's books.
I did love the age gap.
The next book is B Is For Beg, Blake's story.
I think this is my first by this author.