9th Blog Anniversary Giveaway: Barbara Elsborg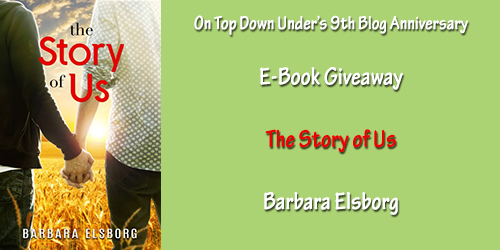 Today's Blog Anniversary giveaway is the fantastic The Story of Us by Barbara Elsborg. If you want a heartfelt story of young love that endures… and endures, The Story of Us gives you that, and then some. This remains one of my favourite Barbara Elsborg books of all time. *Sighs, Zed and Caspian.  To have an opportunity to win this e-book either leave a comment below or use the Rafflecopter.
**We contact winners as soon as the draw is complete. To ensure fairness and to be able to run a smooth giveaway, all winners are given 48 hours to contact us back otherwise we have to redraw. Thank you for taking part in this giveaway and our blog anniversary. Good luck!
About the Author:
Barbara Elsborg lives in Kent in the south of England. She always wanted to be a spy, but having confessed to everyone without them even resorting to torture, she decided it was not for her. Vulcanology scorched her feet. A morbid fear of sharks put paid to marine biology. So instead, she spent several years successfully selling cyanide.
After dragging up two rotten, ungrateful children and frustrating her sexy, devoted, wonderful husband (who can now stop twisting her arm) she finally has time to conduct an affair with an electrifying plugged-in male, her laptop.
She writes stories about two guys, two guys and one woman, or one guy and one woman in most genres—contemporary, paranormal, sci fi and suspense. Her books feature bad, damaged men and quirky heroines, and she hopes they are as much fun to read as they are to write.
She loves hearing from readers and can be contacted at bjelsborg@gmail.com If you'd like to hear about future releases please ask to be put on her mailing list.