Release Week Giveaway: Evie Drae, Beauregard and the Beast
Congrats to Evie Drae on the upcoming release of Beauregard and the Beast! Check out the book trailer and excerpt. There's also an amazing giveaway!
TITLE: Beauregard and the Beast
SERIES: Once Upon a Vegas Night (Book 1)
AUTHOR: Evie Drae
RELEASE DATE: August 20, 2019
PUBLISHER: Dreamspinner Press
HOUSE LINE: Dreamspun Desires Book #88
GENRE: Contemporary M/M Romance
WORD COUNT: 54,846
His greatest prize can't be won in the octagon.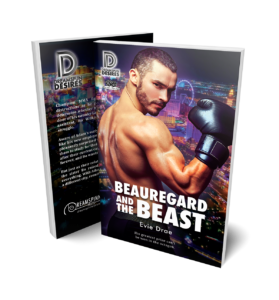 BOOK BLURB:
A Once Upon a Vegas Night Tale
His greatest prize can't be won in the octagon.
Champion MMA fighter Adam Littrell needs no distractions as he prepares for the fight that will determine whether he retires. But when he opens the door of his swanky Las Vegas home to his new personal assistant, Bo Wilkins, staying focused becomes a struggle.
Aware of Adam's surly reputation, Bo doesn't expect to like his new employer, let alone fall for him. But Bo is pleasantly surprised when a shared love of books leads them to study for their GEDs together and plan for a life after their current careers. Adam won't be able to fight forever, and Bo wants a relationship on equal footing.
But just as their relationship is getting off the ground, the sister Bo raised needs his help, and he drops everything. With Adam's final match looming and Bo in a different city, reuniting will be the real challenge.
TEASER SCENE EXCERPT:
The smell of fresh laundry mixed with strong cleaning chemicals assaulted Adam's senses the moment he walked through the garage door after his morning training. He scrunched his nose in protest. The clean linen smell was pleasant, but what the hell kind of biochemical warfare was Bo waging on his home? The pungent scent of corrosive bleach and all manner of other caustic solutions burned his nostrils and left his head spinning.
He headed for the laundry room to drop off his gym bag and found Bo on his hands and knees in the hallway, scrubbing at the stone tile flooring.
"Fuckin' hell, Bo, you're gonna asphyxiate from all these fumes." Adam tossed his bag down the hall in the general direction of the laundry room. "Why don't you take a break? We can grab lunch somewhere and hit the grocery while we're out."
Bo sat back on his haunches and swiped a wrist over his brow. "I'm almost done here any—" His eyes bugged, and he scurried to his feet, the sponge dropping from his hand. "Holy crap on a cracker, what the heck happened to you?"
Adam froze when Bo's soapy fingertips grazed his jaw. A jolt of electricity fired under his skin at the connection. He followed the tingling path of Bo's touch with his own fingers, marveling at the intensity of the impression that brief contact left behind.
"Did you get jumped?" Bo's brows pinched, his lips turning down at the corners. "Did you call the police? Are you hurt anywhere else?"
 A laugh bubbled up Adam's throat at the unexpected barrage of questions and the look of genuine concern twisting Bo's face. When was the last time anyone cared he'd been hurt? Hell, unless they bordered on life-threatening, even he failed to notice his injuries more often than not. So was the life of a mixed martial arts fighter. Sparring was the best way to train, and sparring equaled wounds. Rarely as intense as those suffered at an official fight, but colorful and bloody nonetheless.
"I'm fine. Just a few scratches." Adam tried to grin, but the act tugged at his already split lip and fresh blood trickled down his chin.
Bo gasped and clamped a hand over Adam's wrist. "That's more than a scratch. Where's your first aid kit?"
"First aid kit?" Adam cocked a brow. He didn't keep anything like that at home. If his injuries required mending, Eddie, his coach, would tend to him after he hit the showers. Today, the damage was minimal, so he'd left without patching up.
Gaping, Bo shook his head. "Don't tell me you get beat up for a living and don't keep basic first aid supplies around the house."
Adam knuckled the blood off his chin and shrugged. "It's a split lip. I'll be fine."
"A split lip, a black eye, and a gashed eyebrow. That is not fine." Bo scowled and dropped Adam's wrist with an adorable little huff. "I'm adding medical supplies to the grocery list. If you're going to come home looking like roadkill on a regular basis, I'm going to need some necessities. In the meantime, will you at least let me put some ice on that eye?"
WHERE TO FIND BEAUREGARD AND THE BEAST:
Amazon: https://amzn.to/2IGmc0N
Kobo: https://bit.ly/2UCn8oo
Google Play: https://bit.ly/2Vv1Q0Q
Barnes & Noble: https://bit.ly/2DxeW3s
Dreamspinner Press: https://bit.ly/2VnRb7L
Goodreads: https://bit.ly/2Ro3VH6
ABOUT THE AUTHOR:
Evie Drae is a registered nurse by day and an award-winning male/male romance writer by night. She has won first place in seven Romance Writers of America® (RWA®) competitions, including the prestigious title "Best of the Best" in the 2018 Golden Opportunity Contest. She is a double finalist in the 2019 Golden Heart®, in both the Contemporary Romance and Romantic Suspense categories, and finished as a second-place runner-up in four additional RWA contests. As an added perk, she landed the fabulous literary agent Eva Scalzo from Speilburg Literary following a dual win in two separate categories of the 2018 Heart to Heart contest.
One of Evie's favorite things to do is encourage her fellow writers. To that end, she started the #writeLGBTQ and #promoLGBTQ hashtags on Twitter to support and promote LGBTQ+ authors and allies while providing a safe space to connect and grow as a community. She is married to the love of her life, is the mother of three wonderful fur babies, and runs almost entirely on coffee and good vibes.
Evie loves to link up with fellow writers and readers. You can reach her directly at EvieDrae@gmail.com or find her on her social media accounts listed below. Twitter is where she's most active but be sure to check out her blog too. She focuses on reviews for LGBTQ+ authors and allies with the occasional quirky advice/recommendation post just to toss things up.
WHERE TO FIND EVIE:
Website/Blog: https://www.eviedrae.com/
Twitter: https://twitter.com/EvieDrae
Facebook: https://www.facebook.com/eviedraeauthor
Goodreads: https://www.goodreads.com/Evie_Drae
Instagram: https://www.instagram.com/eviedrae/
Pinterest: https://www.pinterest.com/eviedrae/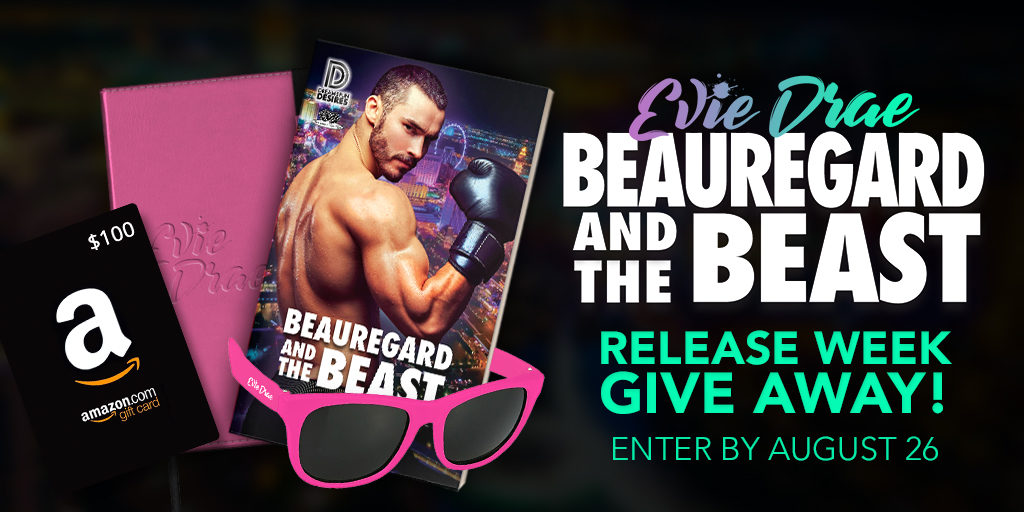 RELEASE WEEK GIVE AWAY (ENTER BY AUGUST 26th, WINNERS ANNOUNCED AUGUST 27th, 2019):
The GRAND PRIZE WINNER will receive a personalized signed copy of Beauregard and the Beast, a $100 Amazon Gift Card, and an assortment of author swag! The RUNNER-UP will receive a personalized signed copy of Beauregard and the Beast and an assortment of author swag!
To enter click the following link: https://promosimple.com/ps/e886/b
NEWSLETTER SIGN-UP: http://eepurl.com/dymBtz