Blog Anniversary Author Post + Giveaway: Elizabeth Noble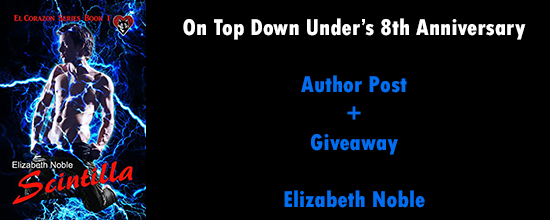 Can You Feel the Magic?
Hello, thank you for stopping by and a big thank you to On Top Down Under Reviews for including me in their 8th Blogversary!
Let's talk magic. 
Who doesn't like magic? Who wouldn't want to be magical? Probably everyone at some point in their lives has wanted to have magical skills, however you define them. It makes an individual special. People like to feel special.
The thing with magic is it needs to have rules and there's always limitations. I wanted some of my characters in Scintilla to have magic, but I didn't want that magic to be the all-powerful-never-defeated type.
For the humans in Scintilla I decided to have four distinct groups who were magical. Each group has control over one naturally occurring trait all people are affected by in some manner. Scintilla revolves around a human, Brandon, who can manipulate electricity. He can't do that on a large scale, however, so no zapping a city! What he can do is control the electric field all of our bodies produce and can use that field in a very unique way. His field can be enhanced to an extent and seen by others.
Brandon influences how his electrical field interacts with those of other individuals. His love interest is Raul, a werewolf. Werewolves in general can withstand more of the effects of electricity than a human. As the story progresses and their relationship grows, they begin experimenting with uses of electricity in their more intimate interactions. Brandon has the ability to extend his electrical field in such a way that Raul experiences enhanced sensations. In turn, Raul learns a few skills that lets him use Brandon's electricity for both their enjoyment. 
Raul learns how to feel Brandon's magic and he relishes those feelings!
Brandon has also been specially educated and trained to use his form of magic in the digital world. He can mentally climb inside, slip past firewalls and see things inside a program others can't. This training eventually leads to Brandon using his magic in unique ways while he and Raul search out a human trafficking ring. Brandon and Raul employ a number of methods centered on Brandon's magic to thwart the traffickers' search for new victims while infiltrating their operation.
Brandon isn't the only one putting what augmentations nature gave him to good use. Raul, as a werewolf, has skills and abilities humans don't possess. Having a heightened sense of smell, infrared vision and a more powerful body serves Raul well. Through years of his own type of training he's honed those skills for use as a Dom and alternatively a bounty hunter.  
Raul and Brandon discover they're not only compatible as a couple, but as investigators. I had a lot of fun while writing this book thinking up different ways of using what nature gave these men to give a boost to the good and bad events in their lives.
What sort of magic would you like to feel?
**GIVEAWAY**
All commenters will be entered into a drawing to win an ebook copy of Scintilla.
Thank you to Elizabeth Noble for joining our 8th blog anniversary. You can enter the giveaway for Scintilla either via the Rafflecopter or leaving a comment below. This giveaway is open for 10 days from the date of post. Good luck!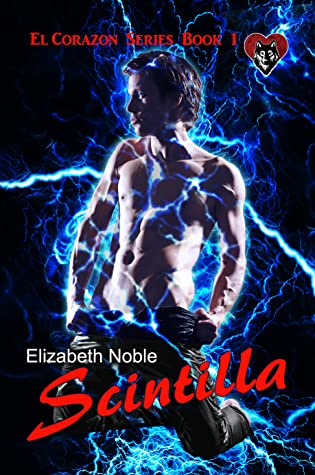 How far is too far to go to save someone you love?
Brandon Lynch is magical. He's a scintilla, wielder of electricity, and is in love with a werewolf—or maybe he's just in love with the idea of loving a werewolf?
Raul Fierro is a werewolf and knows he loves Brandon. He's made a promise to always protect Brandon and will carry out that promise at all costs.
When Brandon and Raul go head to head with human traffickers, Brandon's morals are stretched to their limits. Will Raul keeping his promise tear them apart?
Author Bio: 
Mystery, action, chills, and thrills spiced with romance and desire. ELIZABETH NOBLE lives by the adage "I can't not write." She doesn't remember a time when she didn't make up stories and eventually she learned how to put words on a page. Those words turned into books and fan fiction that turned into a genuine love of M/M fiction. A part of every day is spent living in worlds she created that are filled with intrigue and espionage. She has a real love for a good mystery complete with murder and twisty plots as well as all things sci-fi, futuristic, and supernatural.
When she's not chronicling the adventures of her many characters, Elizabeth is a veterinary nurse living in her native Cleveland, Ohio. She has three grown children and now happily shares her little, brick house with a spunky Cardigan Welsh Corgi and his sidekick, tabby cat. Elizabeth is a fan of baseball, basketball (go Cavs and Cleveland Baseball) and gardening. She can often be found working in her 'outside office' listening to classic rock and plotter her next novel waiting for it to be dark enough to gaze at the stars.
Elizabeth has received a number of amateur writing awards. Since being published, several of her novels have received Honorable Mentions in the Rainbow Awards. Jewel Cave was a runner-up in the Gay Mystery/Thriller category in the 2015 Rainbow Awards. Ringed Love was a winner in the Gay Fantasy Romance category of the 2016 Rainbow Awards.
Say hi to Elizabeth:
Emotion in Motion
Newsletter Sign Up
JMS Books Page
Amazon
Facebook Group
Facebook
Facebook Author Page
Twitter
Pinterest
Goodreads
QueeRomance Ink
Liminal Fiction
Gay Romance Readers Club
Smashwords
Bookstrand
E-Mail: elizabeth.noble19@gmail.com