The Falcon and the Foe (Single Dads Club #1), A.J. Truman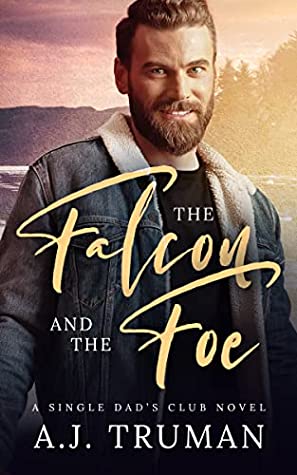 Rating: 4.5 Stars
Publisher: Truman Books
Genre: Gay Romance
Tags: Contemporary, Enemies-to-Lovers, Family, Humor, Opposites Attract, Romance, Series
Length: 294 Pages
Reviewer: Cindi
Purchase At: Amazon
Blurb –
Two single dads. One huge grudge. And one tiny tent.
It's hard enough balancing two jobs with raising my son solo. Forget dating. I barely have time for laundry.
But when my son's scouting troop The Falcons needed a co-scout leader, I couldn't say no. There's just one ginormous problem: the other scout leader Russ.
To all other parents, he's #DadGoals, Mr. Sexy Widower who lords over the drop off line.
To me? He's the bane of my picket-fenced existence – stuck up, anal (not in the fun way), and definitely the person who got me booted from the Parent Teacher Association. I can't let him wrest control of The Falcons and have history repeat itself – no matter how hot he looks in his khaki uniform.
Thing is, the more we work together, the more I glimpse the caring man lurking under the cold exterior. Maybe he isn't the completely wretched human being I thought.
We'd both sworn off romance to focus on fatherhood, and nothing's going to change that, not even sharing a too-small tent in the wilderness.
Right?
The Falcon and the Foe is an MM enemies-to-lovers romance containing hot single dads, sizzling snarky banter, pitched tent puns, skinny dipping, and an HEA. It's the first in the Single Dads Club series, but can be read as a standalone.
Review –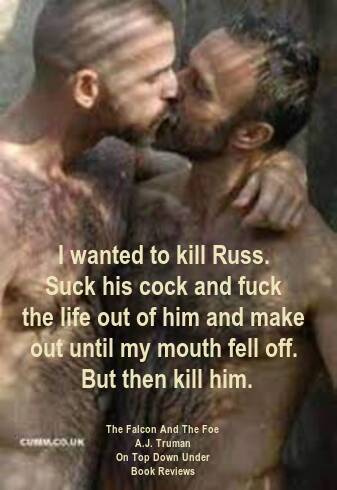 It all starts when Cal's nine-year-old son Josh says the dreaded words, "I want to join the Falcons." The Falcons are a scout troop whose leader is Cal's sworn enemy, Russ. Being the good dad Cal is, he agrees. Unfortunately, they're a few minutes late for the first meeting and get called out for it in front of everybody by Mr. Meanie himself. When the meeting's over Cal somehow finds a way to take the place of a departing scout co-leader. This obviously doesn't go well with Russ, who makes it clear that what Cal feels for him is quite mutual. They'd tried working together in the PTA once, and let's just say that Russ ended that real quick.
Russ was something else. A total control freak jerk. Russ fits right in with the snobby 'Mean Girl Mamas' (my name for them, not the author's) at the school. You know the mothers I'm talking about. They're judgmental witches who get off on putting others down who they consider beneath them. Their kids can do no wrong, and they all live in perfect houses with perfect little families and have perfect little lives.
Sarcasm, obviously.
It took me a LONG time to warm up to Russ because he's the type of person I despise.
Russ Ettinger was a fucking asshole who, in the words of our lord and savior Britney Spears, could eat shit and step on legos.
~
Russ Ettinger. How I loathed thee. Let me count the ways.
It was so easy to hate Russ early on. He was a total jerk to Cal just because he could be. Russ was Mr. Perfect. He was this widowed single dad who all the mean girl mamas couldn't get enough of. He was organized to the point of being anal. If you weren't twenty minutes early, you were late. He was a business guy who wore a suit to work every day, he baked everything from scratch, had the perfect little family with his nine-year-old son Quentin, the perfect job, and was adored by all – except Cal.
He was horrible.
Cal, on the other hand, works two jobs to make ends meet for him and his son, Josh. He earns decent money, and has good benefits working at Market Thyme, a Whole Foods type of grocery store. It's where all the snobby and snooty people go to shop – and to treat Cal like he's less than. His other job is doing voiceover work. He's the complete opposite of Russ. He tries, but there aren't enough hours in the day to do all he needs to do; hell, that he wants to do. Even so, he thinks he's doing okay because it's the best he can. He doesn't date – hasn't hooked up since before he adopted Josh – and tries hard to be a good single dad.
To say that Russ doesn't want Cal – of all people – to be his co-scout leader is an understatement. And believe me, he does everything he can to make Cal quit. He'd already gotten him booted from the PTA because Cal dared to have ideas for a festival that weren't boring as hell.
Those who hadn't had the displeasure of meeting Russ were lucky. Very lucky. Like, go to Vegas and put it all on red kinda lucky. Russell Ettinger was Suburban Satan. Lucifer in the PTA flesh. A stuck-up asshole for those who weren't into colorful metaphors.
They're able to somehow tolerate each other during the weekly meetings, with Russ even smiling a time or two. Things really come to a head when it's time for the scout's camping trip. And what do you know? They're forced to share a tent after there's an incident with a spider and a tent post. Cal is a big man, and Russ isn't tiny, so it made for some pretty close sleeping quarters.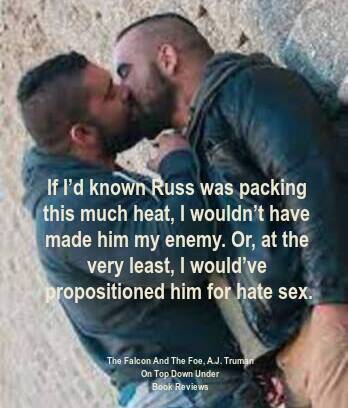 There's a little sleep groping that turns into (later) some serious awake groping away from the tent while all the kids are asleep. It was kind of cute watching them pretend it didn't happen for a week or so after the camping trip. When Russ shows up at Cal's for a quickie lunch meeting – claiming it's for Falcons business – all Falcons business goes out the window, and before they know it, they're downstairs in Cal's studio (voiceover work, remember) getting naked. This starts their 'let's pretend we're only hooking up for sex as we both are secretly falling head over heels in love with each other' relationship.
Now back to their kids.
Russ was way too hard on Quentin. While I understood where he was coming from to an extent, he took things too far. Quentin was only nine, had lost his other dad when he was five, and was a little small for his age. Instead of pulling him to the side to discipline him, he'd do it in front of others, something I hate to see parents do. When the poor child finally had enough and yelled, "I hate you!" I was right there with him. I was hating him too.
Russ had his reasons for the way he acted. He'd lost his husband four years before to a horrific accident. His biggest fear is losing his son. For that reason, he's protective to the point of 'this kid is going to be counting down the days until he can put you in a home someday'.
Again, right there with you, kid.
Poor kid. One dad died, and the other had a pool cue permanently wedged up his ass.
Josh had his own issues with Cal, but it wasn't really Cal's fault. Or maybe it was. He was oblivious to pretty much everything around him. He loved his son dearly, but he wasn't the most organized, and he didn't always do certain things that needed to be done. He didn't have time to bake the cookies for school from scratch, or run out and find a certain colored shirt (seafoam green) for Josh because it was the color chosen by some spoiled little girl (it was) for spirit day or whatever special day it was at the elementary school.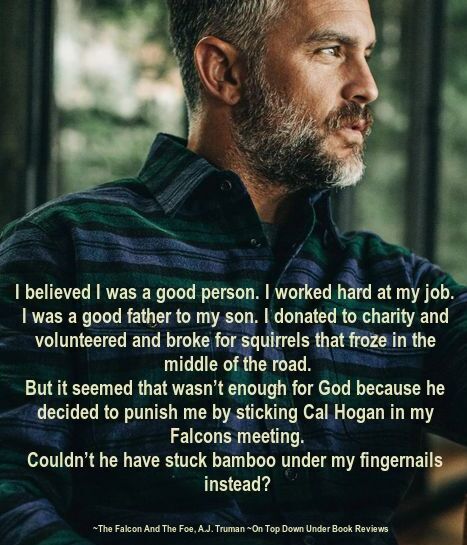 And this is when I really started liking Russ. I'd already started warming up to him quite a bit, but an incident at the school over seafoam green made me really like him. Not only did he go out of his way to calm a crying Josh, he put the worst of the mean girl mamas in her place in a big way.
You can get away with a lot of stuff, but you don't make a kid cry simply because you can, because you think his father is beneath you.
Then there's the 'Single Dad's Club', a group of Cal's friends who are all single dads. They get together when they can at a local tavern (owned by one of the dads), and help each other out when it comes to their kids sometimes. Russ really came out of his 'stick up his butt' shell during his first visit with the Single Dad's Club.
As different as Russ and Cal were – and they were SO different – they really came together as a couple. Not just a couple, but also good friends, and what will be co-parents to their sons. As much of a jerk as Russ was early on – and man, he was a snobby bastard – he ended up being a sweetheart when it came to Cal and Josh. He was still super overprotective, but with Cal's help, he loosened up a lot. I ended up really liking him before it was over. Honestly, I didn't think that would be possible. He was seriously the epitome of everything I hate in a person.
There's quite a bit of humor scattered throughout the book, with most of it coming from Cal and his Little Caesar's loving ways.
I'm eager to go back and read Three Nights With the Manny, a quickie short that takes place before The Falcon And The Foe, and to read the next two when they're published. I'm a big sucker for books with kids in them, and I loved Quentin and Josh, who became close friends before their dads even started liking each other a little bit.
Overall, a really good book. The humor was great, and the sex scenes were written well. I think this is my first by this author. I'll definitely be reading more.