Rocket Science (Love Logic #1), K.M. Neuhold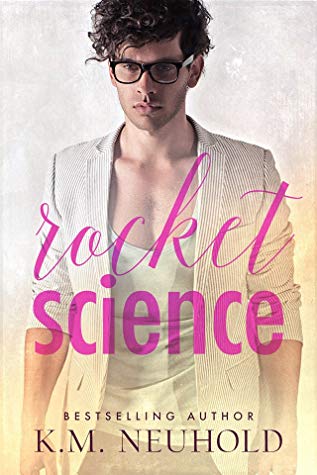 Rating: 3.5 Stars
Publisher: K.M. Neuhold
Genre: Gay Romance
Tags: Contemporary, Age Gap, Romance, Series, Virgin
Reviewer: Cindi
Purchase At: Amazon.com
Blurb –
Relationships aren't rocket science. If they were, I might stand a chance of figuring one out.
Elijah
Saying I've had a crush on my best friend's older brother, Pax, most of my life is like saying the big bang was just an explosion. It's true, but I'm not sure that quite captures the essence of its true enormity.
I know he's only hanging out with me because I'm new in town and getting my PhD doesn't leave me with much time to make friends. And even if it did, my strength is mathematics, not friend-making. What I don't understand is why he kissed me… why he seems to want to keep kissing me. I don't think my advanced physics knowledge is going to help me figure this one out. But I think for once I'm okay with not knowing, as long as Pax and I don't know together.
Pax
He's still the awkward nerdlet I remember…he's also probably the cutest, most tempting man I've laid eyes on. I know I should keep my hands off him, but this thing between us is like a force of nature. I want to be his first everything. He says we're nothing more than atoms crashing into each other. I'm no scientist but I don't think either of us are braced for the explosion.
**** Rocket Science is a stand alone MM romance featuring an inexperienced nerd, a cocky player, and a satisfying HEA
Review –
I'm just going to throw this out there before I even get to my review – I ended this thinking that Elijah and Theo (Pax's brother) would have been a better fit than Elijah and Pax. That's not saying that I didn't like the story. I did. I just felt Elijah and Theo together. Not so much with Elijah and Pax.
Twenty-three-year-old Elijah has moved from Wisconsin to California to work on getting his PhD. For the first time since he was a young child he'll be starting school without his best friend, Theo. Elijah doesn't really have a whole lot of social skills. He finds it better to be alone than be put in a position of saying or doing something to make him look silly. He suffered enough when he was growing up, being bullied when Theo wasn't around. He happily sticks with his studies, having no problem being by himself.
Thirty-one-year-old Pax is Theo's older brother. Working in sales, he lives in California but travels five days out of the week. When he gets a call from his little brother asking if he'll maybe meet up with socially awkward Elijah and introduce him around so he's not so alone, he balks at first. That changes when he realizes how concerned Theo is about his friend.
Theo was such a good friend. I loved him right off.
Theo mentions all this to Elijah, who promptly freaks out. He's always had a crush on Pax so he knows seeing him now – after not seeing him in years and years – will have him making a fool out of himself. When he gets a text from Pax, he almost doesn't respond, much less meet him somewhere. He only does because he doesn't want to disappoint Theo.
When Pax sees Elijah he's shocked still. The nerdy teenager has grown up to be a gorgeous man. Pax wants him instantly but he can't act on it. There's a lot of awkwardness for Elijah at first. It takes a while – and a lot of drinks – but eventually he loosens up a little and they both have a nice time. The next morning, Pax is texting him. One flirty text conversation turns into a lot of flirty text conversations and they get together a lot. It doesn't take long before Pax kisses him and everything changes.
Pax is a player. Everywhere he travels somebody ends up in his hotel room bed. Every time he goes out with friends he hooks up with somebody. But suddenly he's not wanting sex with random strangers. He's now seeing Elijah every weekend and things are starting to get heated. He knows Elijah is a virgin but that doesn't stop him from starting something sexual, though it takes a while for them to actually fully do the deed.
From the very beginning it's stressed that the relationship will be casual, nothing more. This is where my first problem came in. Elijah is just now coming into his own, sexually and in other ways. His first times are with none other than this longtime crush. Pax may not have known that he'd had a crush on him for years, but he (Pax) was experienced enough to know better than to keep something going with someone so innocent and so naive when it comes to relationships.
And then there's Theo and the secrets his brother and best friend are keeping from him. Of course, it comes out later, which reinforced what I said above about how I could see Elijah with Theo, not Pax. Theo wasn't mean when the truth came out, but it was obvious that it did bother him.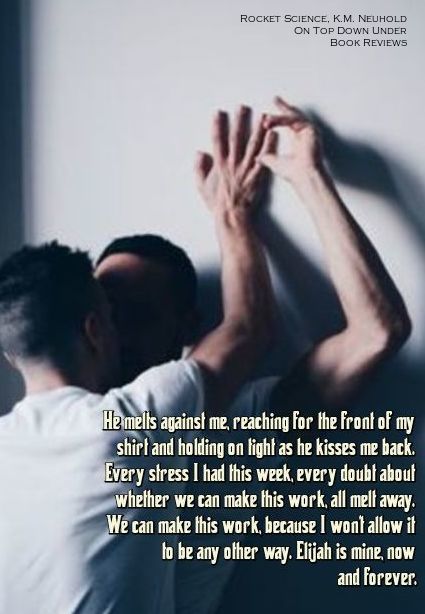 Pax and Elijah are spending almost all their free time together. When they're not together, they're texting and flirting. There was even a naughty video call involving a banana. 😉 They called what they were doing sexually experimenting. You know, the wild playboy teaching the naive virgin all things about sex and hooking up with random strangers. As long as that's what it was called, it didn't freak either one of them out. Elijah never believed he'd be good enough for Pax. Pax had never been boyfriend material, even admitting to cheating on almost every man he'd ever been with.
I think the biggest issue I had with Pax was that every time he started feeling like maybe he was wanting more than the casual thing, he'd disappear or pull away with the texts and calls. This, of course, hurt Elijah. I felt that Elijah was just a little too naive to see what was happening.
Now to the secondary characters. Pax's friends were okay enough, but I didn't like how Pax was with them. He was the smart, educated man who talked about various things with Elijah and the manwhore bro with his buddies. At one point Elijah even calls him out on it, as he should have. Pax was also a bit of a flirt, which came out at a party for one of Elijah's friends, Alex. He didn't mean anything by it – he was there with Elijah – but Elijah couldn't have known that. His experiences in those types of settings and situations were nil.
Two of Pax's friends and a bartender who was introduced at the very end of this book have their story next. With that one being MMMM, there's another guy who comes in that I don't think was mentioned in this book.
There's also Seph, a female. I liked her well enough. Elijah also has a new friend from college, Alex. I could almost see Alex and Theo together. Theo had some issues of his own that would have to be elaborated on at some point so I'm guessing he does have his own story.
I liked this well enough, I suppose. I just found myself feeling sorry for Elijah who tried his damnedest to not fall in love with Pax. Pax was his first everything so of course he was going to. He occasionally came across as a little clingy, needy. Not his fault because he's never been with anyone else. I have no real reason not to like Pax, and I guess I did like him well enough. I just had a hard time getting a feel of these two together.
I'm sure I'll read Four Letter Word (the next in the series) at some point. I'm a little leery, and not because it's MMMM. I just already met a couple of the guys from that one. There was a bit of angst and boneheadedness involved already with two of them. I don't think I can handle the drama right now, to be honest. I may wait and come back to this series when another book is published so I can read Four Letter Word and then move on directly to the next one.