Holly Hills Christmas, A.D. Ellis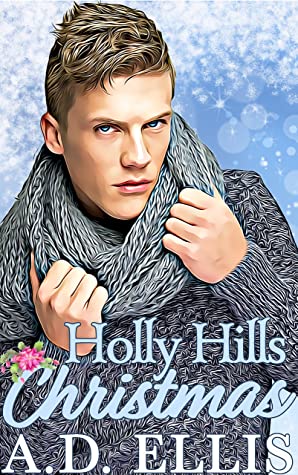 Rating: 4.5 Stars
Publisher: A.D. Ellis Publishing
Genre: Gay Romance
Tags: Contemporary, Age Gap (20 Years), Christmas, Small Town Romance
Length: 170 Pages
Reviewer: Cindi
Purchase At: Amazon.com
Blurb –
Dakota Scott heads to the small town of Holly Hills to lick his wounds and spend Christmas with his ailing grandmother. Things don't exactly go as planned and Dakota finds himself shacking up with a sexy silver fox. No worries, it's just until the holiday is over.
Vince Carter is a self-proclaimed Grinch who somehow ends up starting over in a perpetual Christmas town. He definitely should have said no when his friend's hot-as-sin grandson offers up a holiday fling, but Vince has clearly lost his mind.
What starts as quick and easy mixed with a little Christmas magic soon turns into something much more than either man could have ever imagined. Will what they've found in each other pass as quickly as the approaching holiday? Or will Dakota and Vince find a way to navigate the obstacles they face together?
Holly Hills Christmas is a steamy, feel-good, M/M age-gap holiday romance.
Review –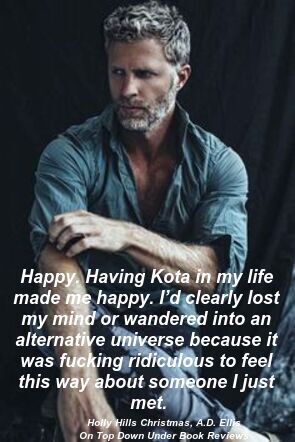 I love books with characters who have substantial age differences. I seek those books out more often than not. In Holly Hills Christmas we have Kota, who is twenty-four, and Vince, who's forty-four.
It all starts when Kota (Dakota) Scott drives to the small town of Holly Hills to spend Christmas with his 'sickly' grandmother. He's almost to her B&B when his tires slide on ice and he ends up stuck in deep snow. He's having a major meltdown (understandably) when his savior arrives with a tap on his window. That savior being Vince Carter.
Kota, in a span of a few weeks, lost his job, his apartment, and his friend-with-benefits. He's hoping spending the holiday with his grandmother will pull him out of his funk, maybe help him figure out what to do with his life. Meeting the hot older man is just a bonus. It's definitely a bonus when his matchmaking grandmother makes it where he's holed up in the guest house – a mile away from the B&B – with said older man. I won't go into what she did to make sure the two men ended up together, but it was funny. Somewhat unrealistic but still funny.
Vince moved to Holly Hills – a small town that celebrates Christmas every day – a couple of years before. Having been raised in an ultra conservative home with parents who would never be called real Christians, he became a grumpy Grinch when it came to Christmas. So, how does a grump who doesn't buy into the whole Christmas thing end up in a town that celebrates the holiday every day? After a scandal in his so-called legit public profession, he took off and basically fell off the map when he discovered the town he now calls home. He continued doing his 'other' job online on a much smaller scale, but he mostly became a handyman of sorts in the small town of Holly Hills, living in the guest house of Kota's grandmother's B&B.
Kota is an artist. Vince teaches art classes at the local schools, and his other profession (that I'm not mentioning here for reasons) has a lot to do with art.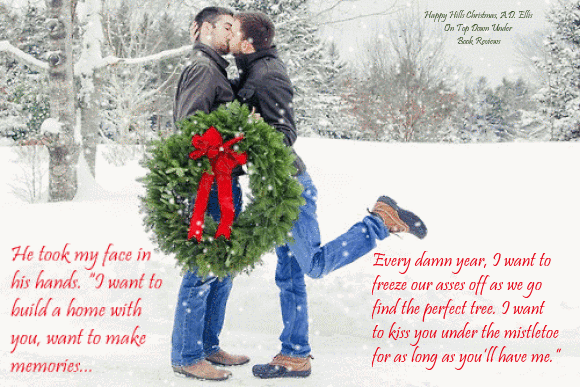 These two guys go from zero to ninety almost immediately. And let me tell you… it was HOT! HOT! HOT! There was almost no 'I'm too old for you' nonsense you see in a lot of books when the guys have big age differences between them. No, these two were perfect from the get-go, and the author wrote some pretty hot sex scenes.
They're moving in the right direction, knowing what's happening between them isn't just the holiday fling they both agreed to when Kota arrived in town. Kota's working on his art, even (with Vince's help) setting up a small business with it, including a website, business cards, etc. When the above-mentioned secret (Vince's profession) comes out – and you can see what's going to happen from a mile away – Kota's hurt and feeling betrayed. Thankfully all of that was resolved fairly quickly.
I loved Mary Joy, Kota's matchmaking grandmother. The woman uses guilt to get her only grandson to come home, but when he does, she's all over making sure he has a reason to stay. She just got lucky that a snowstorm hit right as Kota was arriving. 😉
I can't not mention the poor Christmas cactus that was near death until Grumpy Vince got a taste of the holiday spirit he'd pushed away for so long.
I'm going to say something that I guarantee you I'll never, ever say in another review – I laughed out loud about that damn Christmas cactus. It was a really funny part of the story. And as someone who kills plants just by looking at them, maybe I've been going about keeping them alive the wrong way. *snort*
Fucking for a plant was one thing, letting your grandmother see your ass getting plowed was something else altogether and I planned to avoid it.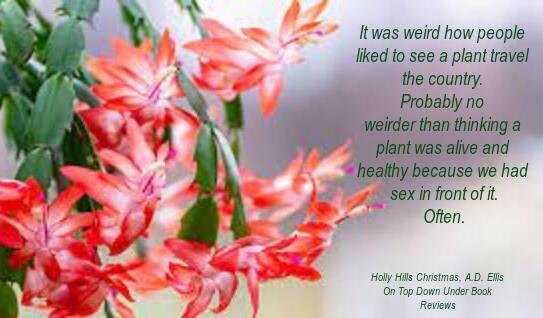 Overall, a really good book. I was a bit iffy over Vince keeping his secrets, but I guess I can understand it to an extent.
A very sweet, very sexy, romance. The only reason it's getting 4.5 stars instead of 5 is because of the above-mentioned secrets that Vince kept from Kota. While it didn't drag on when the truth came out, I'd spent quite a bit of time waiting for the other shoe to drop. Otherwise, a really good story.