Dear Santa, K.C. Wells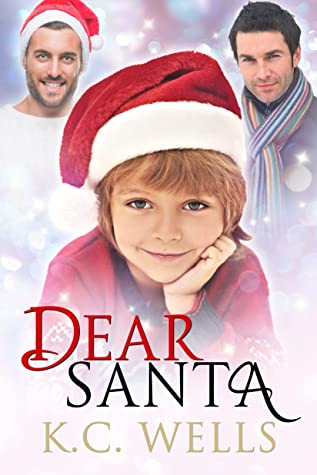 Rating: 3.5 Stars
Publisher: K.C. Wells
Genre: Gay Romance
Tags: Contemporary, Age Gap (5 years), Christmas, Family, Romance
Length: 171 Pages
Reviewer: Cindi
Purchase At: Amazon.com
Blurb –
Ten-year-old Chris's request to see Santa again takes Dave by surprise. He's a little old for that, surely? But Dave will do anything to put a smile on his son's face. Except when they get there, Santa is the one to make Dave smile. He's pretty sure there's a gorgeous man hiding beneath that white beard. And those eyes… Not that Dave gets a chance to even say hello. Chris tells Dave to stay back. Well, Christmas is a time for secrets, right?
Jeff loves playing Santa. That cute kid with the huge eyes – and the hot-looking dad – just surprised the hell out of him. Jeff hears all kinds of strange requests during the holiday season. But this one beats them all – even if it takes a little coaxing to get it out of the kid.
"There must be something you want for Christmas."
The boy snuck a glance over to where his dad stood with one of Santa's elves. "Well… there is one thing."
"And what's that?"
He bit his lip. "It's not for me."
Jeff smiled. Sweet kid. "Tell me."
"You're Santa. You can do anything, right?"
Jeff smiled. "You bet."
"My dad… he's a great guy, but… I think he's lonely."
Jeff gazed at the kid's dad. "Oh. Okay." How can someone so beautiful be lonely?
"So… what I really want for Christmas… is for him to find a new… boyfriend."
Jeff slowly arched his eyebrows. "I see."
The boy nodded. "Ever since Papa died, I know Dad has been unhappy. He tries to hide it, but I can see. And it's been three years since Papa went. Do you think it's too soon for him to fall in love again?" 
Jeff stared at the man. "No, I don't think it's too soon." He gave the kid a smile. "Leave it with me. I'll see what I can do." 
Review –
I found Dear Santa by accident when it came up as a recommendation on Amazon when I was looking at something else. It seemed like a sweet story – and I'd read the author before – so I downloaded it. I'm such a sucker for kids in books so that played a big part as well.
The blurb tells a lot about the story. Chris, who's 10, asks 'Santa' if he can find his dad (Dave, 35) a boyfriend for Christmas. Chris' 'Papa' – aka Matt, Dave's late husband – had died three years prior. Chris, being the sweet kid he is, knows his dad is lonely and he's convinced it's time for him to maybe find love again.
I adored Chris. He was such a little sweetheart.
Jeff, who turns 30 in the story, aka fake Santa, had already noticed Chris' dad before Chris ever made it to him. Later, the two men end up meeting – completely by accident – and start a bit of a friendship that plays out over a few weeks. It's a romance, so you know they get together and Chris gets his Christmas wish.
I liked Dave and Jeff well enough, though I did feel like things dragged a bit as they were getting to know each other. I also felt that there was a bit of detail overload when it came to certain things, mainly cooking and baking. A lot of pages were devoted to crumpets, and later, mince pies. While it was nice to read about since I'm American and we don't really do crumpets or mince pies, I felt like it dragged on for much too long.
Because the story is a slow burn (which is perfectly fine for me), when Dave and Jeff did eventually have sex, it was a bit underwhelming. Even so, I liked the two guys together.
Something I absolutely loved? The sisters. Dave's sister is Janine, his twin. Jeff's is Amy, who is four years older than him. I'm so used to bitchy best friends and bitchy siblings in books. These two were a true breath of fresh air. Like young Chris, they were huge matchmakers. Believe me, neither of the three even attempted to be subtle about their matchmaking. It was cute.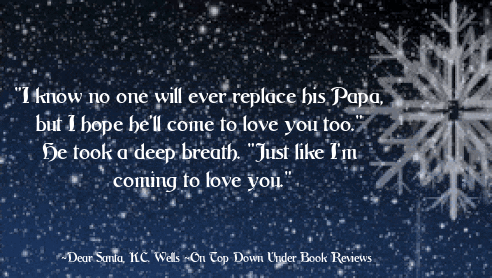 Another thing I really liked was how Matt's part of the story was written. There was still mourning for Matt by Dave and Chris, but the story wasn't bogged down with page after page of it, or of guilt by Dave who was falling in love again. He understandably had a few moments, but it was more of him accepting that he was falling for somebody other than Matt, and coming to terms with how he believed Matt would feel about it.
I kind of felt like something was missing, though I'm ending this review not really knowing what it was. Maybe it was the spark between Dave and Jeff that seemed more dim than anything else. Not that they didn't go well together. I just felt like there was a lot of telling and not necessarily showing when it came to them. While I did feel them as a couple, I didn't feel them as a couple, if that makes sense.
Overall, the story was good and I enjoyed watching these three make a family. A nice holiday story.