Friendly Fire, Cari Z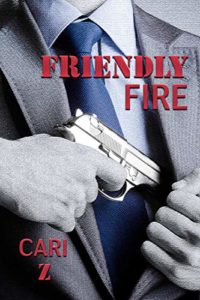 Rating: 4 Stars
Publisher: Self Published 
Genre:  Gay Romance
Tags: Suspense, Contemporary
Length: 228 Pages
Reviewer: Kazza
Purchase At:  amazon
Blurb:
Elliot McKenzie is the king of reinvention. Five years after losing his job and his lover and almost going to prison, his self-help program, Charmed Life, is more successful than he'd ever dreamed. He thinks he's put his sordid past firmly behind him, until he starts receiving cryptic threats . . . and realizes it might not be as over as he'd hoped.
Security expert Lennox West has been lost since a deadly skirmish in Afghanistan led to his forced retirement from the Army. His PTSD makes helping his ex raise their daughter a challenge. When his ex's sister asks him to set her boss up with a security system, Lennox isn't expecting anyone like Elliot McKenzie—a man who captures his attention and makes him feel relaxed for the first time since leaving the service.
But Elliott is dangerously stubborn. Even as the threats against him escalate, he refuses to involve the police, and Lennox fears that stubbornness could kill him. A battle of wills ensues that brings them closer to each other than either man expected. But if the threats turn real, they might not live long enough to get their future together.
Review: 
I really enjoy Cari Z's writing and Friendly Fire was no exception. It provided a much needed escape. Lennox I liked from the beginning and Elliott wormed his way in. There's insta-attraction but this is definitely not insta-love. The  MCs see this… distraction as something enjoyable but not lasting because they both have a complicated history. Both men believe they have to make amends for their past and that gives them a unique perspective in understanding the other as they get to know one another.
Lennox has a thirteen year old daughter he helps co-parent but because of PTSD induced nightmares he's nervous about having her stay over.  Elliott organically accepts Lee and Lee likes Elliot.
Thank you Cari Z for not writing women who are the cause of weak plot development – bitches, lousy mothers, and high drama. Lennox's ex-wife has opinions, and is entitled to them, and they maintain a strong bond. His sister-in-law is smart and classy. His daughter is thirteen and finding her footing.
The suspense element is well written, interesting, and keeps the reader guessing. Recommended reading.
.
.