The Making of Jonty Bloom, Barbara Elsborg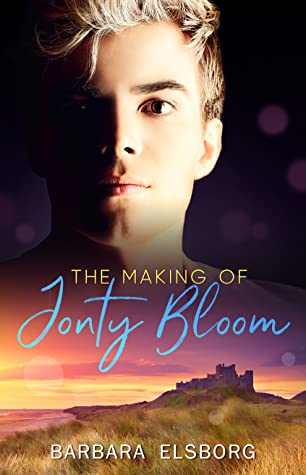 Rating: 4 Stars
Publisher: Self Published 
Genre:  Gay Romance
Tags: Contemporary, Humour, Hurt/Comfort, Opposites Attract
Length: 110,000 Words
Reviewer: M.I.A
Purchase At:  amazon (Release date July 1st)
Blurb:
Finding his fiancé in bed with his brother was bad enough, finding out they're getting married is the final blow.
Devan Smith needs to cool his anger. He needs to forget the lies and betrayals and work on resetting his life. When his boss orders him to scope out a remote hotel for a possible buyout, Devan's only interested in getting the job done and getting out. What he's not interested in is the guy with the piercings, bleached hair, and the smart, kissable mouth behind the reception desk.
Working the hotel reception is the only thing that's stable in Jonty Bloom's unstable life. His best friend has had a terrible accident, his ex refuses to move on, and his eight-year-old self is still waiting for his mother to collect him from school. Jonty needs his job. What he doesn't need is the rude, arrogant, and hot as they come guy who's rocked up demanding he be let into his room right now.
Thrown together by a freak accident, Devan and Jonty's lives entwine, and neither wants to loosen the knot. Can the irrepressible Jonty be the reset Devan needs? Can Devan be the making of Jonty Bloom, or will secrets drive them apart?
.
Review:
.
Devan Smith is barely holding it together. His anger, hurt and humiliation festering right below the surface and taking any opportunity to lash out at innocent bystanders. Witnessing this downward spiral his boss decides to send him to Northumberland, England.  An opportunity not only to work and bring a Northumbrian hotel into the fold but also to get away from the office and the betrayal of his brother.
Jonty Bloom is the poor bloke behind the reception desk of McAllister's Hotel that finds himself bearing the brunt of Devan's less than pleasant attitude. Faced with a hot, demanding and entitled hotel guest Jonty finds himself unable to control his wayward tongue.
The banter had me laughing. Jonty's sarcasm, humor and no-filter commentary while still attempting to be courteous and provide excellent service. Hilarious.
As first impressions go, theirs was not the best. Despite the insta-attraction they both feel, neither makes a move until a chance meeting in the North Sea and a shared near-death experience tangles them together.
It's quite a heart-warming and beautiful sight the first bloom of romance. The infatuation. The fun to be had. Jonty's long list of date ideas, each one more ridiculous and unique than the next.
Jonty Bloom is a special human that manages to exude joy and happiness despite his reality. He's been beaten down and traumatized by life since he was eight years old. Still, he smiles, jokes, and manages to shed light into Devan's darkness.
"This was what he'd been missing. Innocent laughter. Fun. Even before he and Ravi had split, things had never been like this. Jonty was immature, irritating and yet the most entrancing guy he'd met in…maybe ever." – Devan
Five months for everything to change for the worst.
One week to heal and bring about the possibility of a positive future.
" No one knows what the future holds, whether tomorrow's waves will be good surfing ones or not. You take what you can, while you can." – Jonty

Overall:
This is a lovely romance, elegantly written with scorching sex scenes.
Opposites attract dynamic.
It's about possibility.
It's about hope.
It's about instinct.
It's about human connection.
It's about unfinished business.
There is laughter, sex in sand dunes, penis shaped pizza, horseback riding, inappropriate use of Cadbury's Flake chocolate bar, and the ten wonders of Northumberland to explore.
There is insta-attraction and the relationship unfolds over a short time frame. However, the pacing of the story makes it possible for it to feel right and believable.
I enjoyed The Making of Jonty Bloom.
I loved the beautiful insight into Northumberland, surfing and sea glass art.
There is a really good balance of humor, feel-good moments and angst.
Lovely and fitting HEA to end the story and a promise of a series continuation.
4 Stars!