How To Train Your Alpha (Bangers & Mash, #1), M.M. Farmer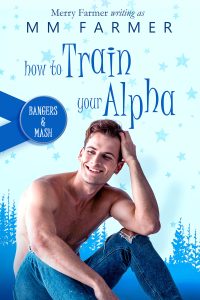 Rating: 3.5 "Cheesy Sex Talk" Stars
Publisher: M.M. Farmer
Genre: Gay Omegaverse Romance
Tags: Contemporary, Forced Proximity, Major Insta-Love, Omegaverse (non-shifting, non-MPREG), Romance, Series
Length: 132 Pages
Reviewer: Cindi
Purchase At: Amazon
Blurb –
It's time for the teacher's pet to get a sizzling lesson on how to take an omega through heat…
Jesse
I wasn't looking forward to wasting a weekend at the Bangers & Mash compound, sitting through Emergency Support Alpha training when I had no interest in actually becoming an ESA, but from the moment the course instructor, Phillip Mash, walked into the room, my alpha senses went nuts.
Who in their right mind would have an omega about to go into heat teach a class full of alphas?
Phillip
I wasn't born yesterday. I'd taught the Heat Support class dozens of times. And I had time before my heat started. Or so I thought. But then Jesse Armstrong had to walk through the door and set me off. I thought I could keep it together, but when the two of us were trapped just as Nature took over and turned me into a whimpering pile of slick, I had no choice but to give Jesse a hands-on crash course in taking an omega through heat.
How am I supposed to teach a total newbie how to satisfy me effectively when I'm out of my mind with need?
How to Train Your Alpha is the first book in the Bangers & Mash series. It's a great start for total newbies to the omegaverse genre, and a fun introduction to a different twist on familiar tropes. However, PLEASE NOTE – No omegas are impregnated in the course of this story, although it does happen in this universe Also, there is no shifting in this world.
Review –
I've gone back and forth on my rating for this book. On one hand, it is entertaining. On the other, it's really nothing more than a bunch of long sex scenes with quite a few cheesy lines thrown in. I don't mean the latter as an insult to the author. It's just that I found myself giggling over what was said during the sex scenes more often than not. And we can't forget the magic cum and heat-slutties. 😉
"Please don't use the phrase 'swimming in your juices' ever again."
~~
"Fuck me, Jesse. I need you inside me. I need a fuckload of cum inside me right now."
~~
"Fuck me. Fuck me hard with that alpha cock of yours! Fuck me all the way up to my womb and make me scream!"
~~
"So, I take it the hormones and chemicals I just spewed all over you and filled you with appease whatever horny heat gods live inside you."
~~
"It was like sticking my dick directly into an electrical socket of pleasure."
Phillip Mash, an omega, is an instructor at his two dads' school for Emotional Support Alphas, where he teaches alphas how to handle an omega's heat. The waiting list for the classes is quite long, and each applicant is screened thoroughly. The point of the classes are to teach the alphas not just how to handle the sex during the heats but also how to handle the rest of what usually amounts to around 4 days. There's a certain amount of care that's involved that goes way beyond sex.
Jesse Armstrong is a teacher who basically teaches the same thing Phillip does, only to omegas on a high school level. Jesse has no desire to become an ESA. He's auditing Phillip's class because his principal wants him to. He'd much rather be spending his long weekend on the beach nearby, not in a boring classroom with a bunch of other alphas. But something strange happens when he arrives at the compound. He feels… off. This feeling gets more intense when the instructor walks into the classroom. He feels him, he smells him (not in a bad way), and he's totally put off-kilter by him.
Phillip's not faring much better with Jesse being so close. He's feeling the exact same feelings Jesse's feeling, only in an omega 'I want to have his babies' way. Okay, he doesn't want to have his babies (yet), but you get what I'm saying. Phillip's also thinking that he's hearing Jesse's thoughts, but that can't be. That only happens with mate bonds, not random strangers.
After Phillip overhears Jesse say something he doesn't agree with during a meal, he insists that Jesse come with him to his cabin for a bit of a history lesson about how much omegas have had to endure for equal rights. Unfortunately, a major storm hits suddenly and knocks out the only bridge to and from Phillip's place and the rest of the compound, because of course it does. 😉 And what do you know? Phillip's heat hits a week earlier than it's supposed to.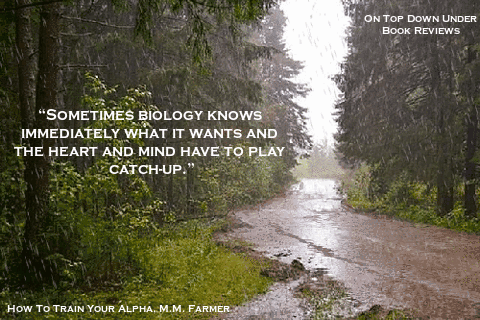 You know what that means… Jesse, who's never been with a man during his heat, has to take care of him for the next 3 to 4 days. At first it's kind of technical with instructions and consent questions thrown out. The technical part disappears fairly quickly and they get to the good stuff. When I say good stuff, I'm saying it's practically nonstop sex for the next few days. Not just nonstop sex, but there's also a bunch of lovey dovey talk, including the L word only 24 hours after their meeting in the classroom the first time. The love thing being thrown out could be because of hormones, or it could be because Jesse and Phillip are a bonded pair, something that's so rare Phillip doesn't even know if it's real.
At the end of the sex-fest weekend – after both men have the best sex of their lives – things are weird. One, they're weird because Phillip doesn't understand what he's feeling so he pushes Jesse away (that irked me). Two, they're weird because apparently after the new bridge was built, Phillip's dad decided to check on him during his heat by walking into the cabin in the midst of it.
"I was, er, up there helping the crew with the bridge replacement the day before yesterday," Dad said. "I knocked and then stepped in to see how you were getting along. You and Mr. Armstrong were definitely getting along."
Can we say ew?
That was off-page, and Phillip didn't even know about it until after the fact, but still. How weird for parents to walk into a place knowing their adult child was having crazy sex.
Of course, the little misunderstanding (re: when Phillip pushed Jesse away) only lasted for a short time before he got his head out of his behind and did the right thing.
And they went on to live happily-ever-after and all that.
I never felt these two guys together. There's almost zero time for them to get to know each other outside of the heat sex, and they were suddenly already head over heels in love and wanting to spend their lives together?
Don't get me wrong, I'm all about fated insta-love mates if I can get a feel for the characters. I just couldn't with these two. And while the sex scenes were hot, the above-mentioned dialogue throughout took a lot away from them. Also, while a lot of time wasn't really spent in the classroom with Phillip teaching, it was still a bit too much because it kind of left the story without much time between Jesse and Phillip outside of the sex.
So, I'm ending this review saying the book was just okay. I'm always on the lookout for a series that I can get lost in. I'm not sure I can do that with the Bangers & Mash series. I may read the next book to see, but it's all really up in the air for me right now.
3.5 'cheesy sex talk' stars.