The Tourist, Clare London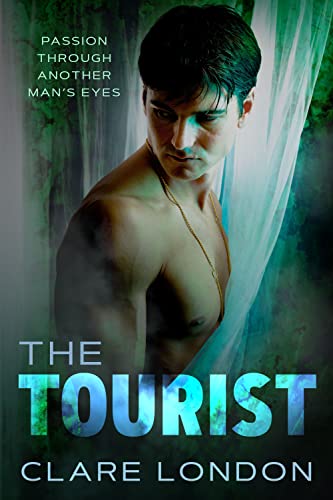 Rating: 5 Stars
Publisher: Jocular Press
Genre:  Gay Romance
Tags: Contemporary, Supernatural, Novella
Length: 110 Pages
Reviewer: Kazza
Purchase At: amazon
Blurb:
Exploring the boundaries of love and desire through another man's eyes.
What if you could visit other men's lives from within, and share their passion? Could you resist the temptation to push even further, and help shape those lives?
Meet Ace, a tourist, a wandering spirit who visits the bodies of others for entertainment and to explore his own desires. But when he enters the world of Dan and his lover, Ricky, two men in a relationship already plagued by jealousy and unspoken tensions, things take a dangerous turn.
As Ace encourages Dan to be more assertive, and Ricky to shake off his dark past, he starts to discover for himself what love can bring to a man's life. But when his hosts' newfound happiness is threatened by someone from that dark past, should Ace move on quickly, as he so often does – or should he use his very unique talents to protect the couple from harm?
Review:
I enjoy Clare London's writing. I've read quite a few of her books and novellas. Writing novellas well is an absolute artform, one which Clare London excels at. The wonderfully named The Tourist is a perfect example of that.
Ace is our narrator. He lived and died in Queen Victoria's time in London, England, and for some reason has been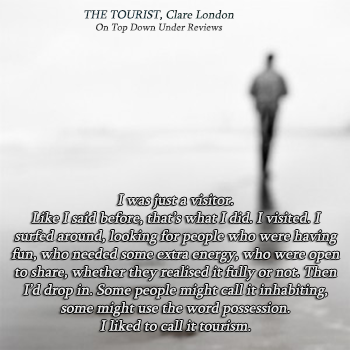 able to stay around in spirit form and enter the body of open/available men. The person he joins as a tourist doesn't know he's there and he doesn't interfere in their thoughts or life, per se, but he can give them a positive nudge. Mostly, Ace has always been about the enjoyment of the ride, the sex, the fun, the chemistry, even if it's for one night, and then he moves on, or jumps. In The Tourist he joins a newer couple originally via Dan. Dan and Ricky aren't living together but have a strong connection, although both men have some deep seated emotions and experiences that block them from fully embracing their still fresh but deepening relationship. The MCs are everyday guys, Dan a builder and Ricky a bartender. Not a billionaire in sight. I loved that.
Dan believes he's punching above his weight, and Ricky has an ex that Dan thinks Ricky still cares for. It causes a little insecurity. Ricky has a story attached to his ex that Dan doesn't fully know about because Ricky is nervous opening up about Calder. It helps that Ace can jump from Dan to Ricky and Ricky to Dan, and in doing so, he also senses love in the background of both men. Ace feels there is such potential in this pair. He enjoys the heart of both men, the sexual chemistry, but he also senses their tensions and worries. We know that Ricky sees so much in Dan and Dan in Ricky but they're both unable to reach their most vulnerable emotions. It makes Ace want to know more about them both, to maybe help them bridge a gap. Not something he normally becomes involved with but this pair are worth more than a simple visit.
I couldn't seem to stop grinning. Dan didn't talk a lot, he didn't gossip, either. Which was a good thing, right? He always looked at me as if… well, as if I'd already know what he was thinking. As if he trusted me to do that, as if we might think the same way. I blinked hard, feeling strangely comforted. No one had ever treated me that way before.
The Tourist is a clever book. We get a look inside a monogamous couple's psyche via a third party sharing and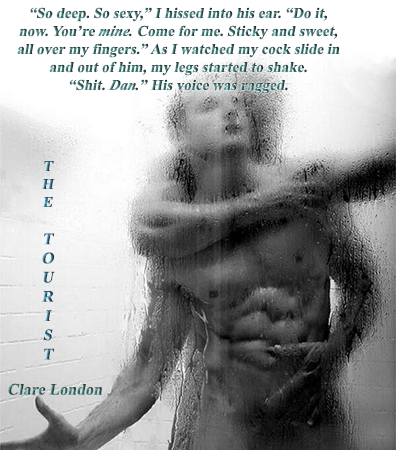 enjoying life inside them. Seeing them through Ace's eyes gave The Tourist such a tender feel. We learn with so much clarity about all the voices in the book because of the way London wrote it. We most certainly get to know Ace really well. He could have been an afterthought or too much if not written with a balanced hand. But he is balanced to perfection between Dan and Ricky. I cared so much about all of them. All individual primary characters in this book are gentle and kind and made me want to hug them. I was totally cheering for them, such is the depth of the emotion, the character development, and the multifaceted storytelling throughout. I was fully invested. I wondered how this arrangement could be pulled together. I was happy as Larry with the ending. It was perfect for the men, for the story, for the reader.
I honestly can't recommend The Tourist highly enough. It's well crafted. It has engaging and endearing characters, ones that dig into your viscera and don't let go, it's very sexy, and it has a little bit of a suspense arc too. I would revisit these characters in a heartbeat if London decided to revisit them. Heartfelt reading. 5 Stars!