Hedging Her Bets (Shifting Hearts Dating Agency #1), Erzabet Bishop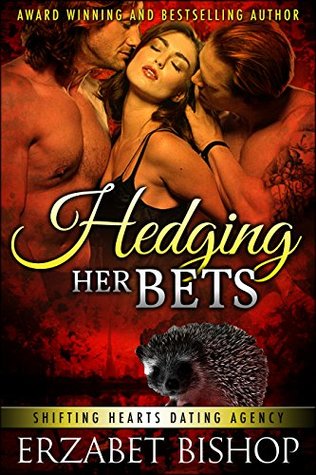 Rating: 3.5 Stars
Publisher: Naughty Nights Press LLC
Genre: Menage Romance
Tags: Paranormal, BDSM (kind of), Bi-Erotica/Romance, Fated Mates, Menage, Series, Shifters
Reviewer: Cindi
Purchase At: Amazon.com
Blurb –
Discover the magic of USA Today bestseller Erzabet Bishop's writing, and see why readers have fallen in love with the Shifting Hearts Dating Agency paranormal romance shared world.
There is strength in submission…and knowing who you are.
Natalie Erinaceus has a problem. Her manipulating mother won't stay out of her dating life. One more dinner with a blind date and someone is getting a fork to the eye. Her inner hedgehog wants a mate and nothing is going to stop her. Not her nervous hedgie's habit of balling-up and certainly not that online questionnaire. Who writes those things anyway?
When Sylvia and Paige from Shifting Hearts Dating Agency step in maybe, just maybe this curvy girl will find more than she ever dreamed in the arms of the men who are fated to be her mates.
Nothing ventured, nothing gained…
Lucas Morgan runs a Scarlet Ink, a tattoo shop across from Ventures, a sexy as hell BDSM club. When his sister Scarlet sets the stage for romance, he meets Jonathan, a werebear in need of more than just some ink. Can Lucas learn to bend to the Dominant of his dreams? What happens when this cat shifter switch meets the perfect sub and his dreams of having a woman in his life become reality?
Three makes a family…
Jonathan Blevins is a bear shifter looking for love. His family murdered by poachers, he came to Cypress Canyon to rebuild. When he finds Lucas, its one step in the right direction. He has one mate but can he convince a stubborn hedgie she's ready to be claimed by not just one mate, but two?
Review –
It's been awhile since I've read a good menage story. While this one was written well, it felt incomplete.
Natalie's mother is a controlling bitch. No other way to describe her. She's constantly trying to set Natalie up with men who fit into her (the mother's) mold. In other words, the men are wealthy, mostly boring, and think they're better than everybody else. Natalie's mother was a piece of work. She was constantly criticizing her daughter and telling her to lose weight. This was usually done in front of a room full of people. It says in the book that Natalie's dad was sweet and kind, but I didn't see enough of him to know one way or another. He's running for political office and something happens with him toward the end, but again, not enough on-page time to learn much about the man.
Natalie is a hedgehog shifter whose hedgehog tends to appear at the worst possible times, like when she's stressed. Considering that her mother is constantly stressing her, this could be a problem in social settings.
Then there are Lucas and Jonathan, who own a BDSM club together. Lucas is a cat shifter. Jonathan is a bear shifter. Lucas also owns and runs Scarlet Ink, a tattoo shop. They've been together as a couple (mates) for a few years and are happy, but they're missing something. That something is a female mate who will complete their triad.
One thing I loved about Lucas and Jonathan is that there was no jealousy when it came to the woman they were looking for. They both knew they needed her and were eager to find her and bring her into their home.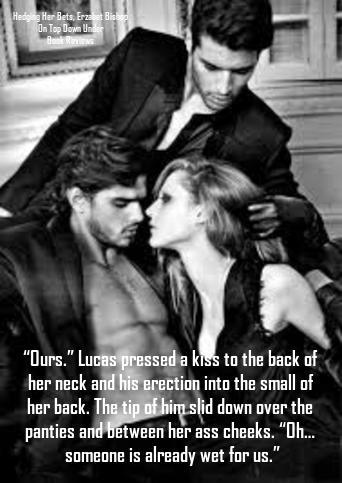 Natalie finally says, "Enough," with her mother's bad matchmaking and signs up with Shifting Hearts Dating Agency, a dating service for shifters like her. It's at a meet and greet at the local BDSM club – organized by Shifting Hearts Dating Agency – that Natalie's life changes forever.
Jonathan and Lucas scent their mate before she even makes it inside their club. When she eventually walks inside they waste no time rushing over to her. Her inner hedgehog knows that both of them are her mates, even before they tell her. Shortly after, there's a bit of drama involving her parents, and some stuff that's been happening in the background, but it's resolved quickly. One might say too quickly.
This is a nice story but I had some issues with it.
The sex between Lucas and Jonathan was written extremely well. Their first meeting is described in detail, along with the sex that comes immediately after. I really liked the two guys together. The sex between the men and Natalie was also written well, though it felt rushed. I liked the three together. So, what was the problem? There wasn't enough of them together. There's so much backstory for the men, the dating agency, the BDSM club, and Natalie that not enough time was allowed for the three once they got together. It was rushed while the other stuff wasn't. There may be more of Natalie, Lucas, and Jonathan in the other books, but I have no way of knowing that. I also had a major problem with the book ending at 75% on my Kindle and moving on to an excerpt (I think? I didn't read it) from the next book in the series. I thought I still had plenty of story left when I didn't. Just a few more pages added would've upped my rating substantially.
Another thing… I'm all about covers reflecting the characters and stories. The book says many times that Natalie is curvy when her mother's constant diet talk is happening. While I think the cover is nice, the female model does not reflect Natalie at all. Also, I have BDSM listed above. There wasn't any in the book with the exception of what Natalie said she'd be interested in when she filled out the questionnaire for the dating agency and when the club was described.
Overall, a nice and quick read by an author I've never read before. It's undecided if I'll be moving on to the others in the series.