Book Cover Reveal/Blitz: Finding Our Morning, Mickie B Ashling

Finding Our Morning by Mickie B. Ashling
Cover created by Anna Sikorska of Tiferet Design
RELEASE DATE: January 28th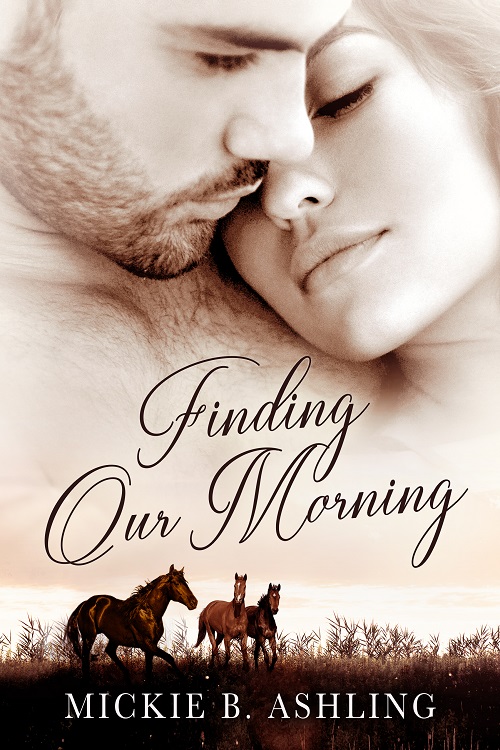 Available to Pre-Order at Amazon
Thank you for hosting the cover reveal for my upcoming release, Finding Our Morning. This stunning cover was created for me by Anna Sikorska of Tiferet Design.
Although I've been traditionally published since 2009 and have managed to release thirty-seven full length novels in the last ten years, Finding Our Morning is my first straight (m/f) romance. I've been meaning to write this for a while, but my creative juices dried up after a few chapters, so I shelved the idea. Last January, I came across the outline for this novel and decided to revisit. This time, my flighty muse perked up like a mare in estrus. Suddenly the timing was right.
In my m/m backlist, there's a trilogy featuring polo players, and one other book rooted in Iran during the revolution, so the setting for this current novel is at once familiar yet completely different. I'm not sure why this historical event fascinates me, and I say historical with a grain of salt. Forty-three years (my story opens in 1977) isn't that long ago, but the ouster of any ruler is significant, and this did take place in the last century—therefore, historical. Why does this moment in time resonate? Perhaps it's because I was alive when the shah left Iran, watched it play out on TV, and, like the rest of the world, dealt with the aftermath of his decision. Or it could be the sweet Persian boy I had a crush on long ago who first generated my interest in the region. What would have happened to me if I'd followed my heart and accepted his proposal? Maybe I just have a soft spot for mysterious dark-eyed polo players with British accents. To be honest, I think it's all of the above.
Finding Our Morning is a multicultural, interracial romance set in Texas, New York, and Tehran. The book releases on January 28, 2020. The novel will only be available on Amazon and KU. A paperback is also planned.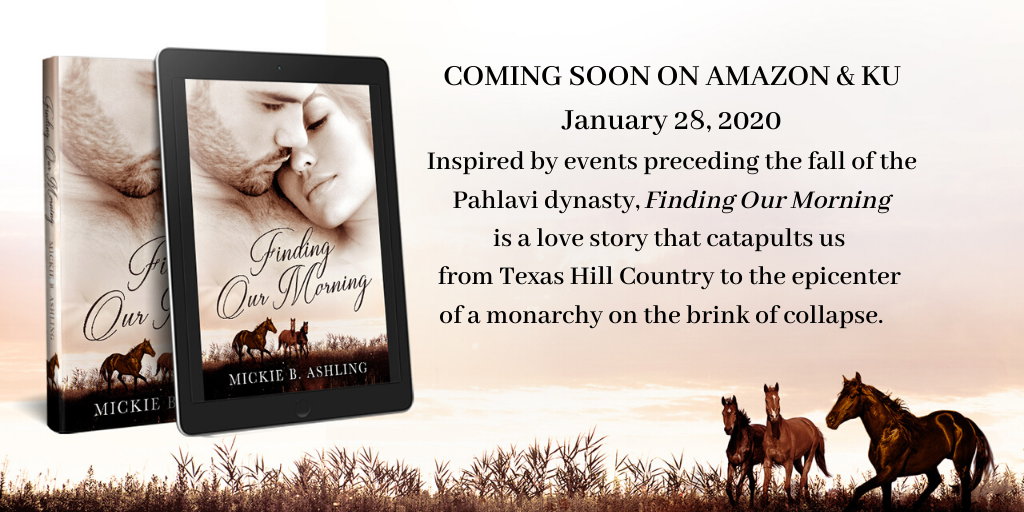 Blurb
May 1977
Ginny Tate bides her time on the family stud farm in San Antonio, Texas, waiting to start veterinarian school in the fall. Bullied as an adolescent, she's finally shed her old skin, but the emerging beauty still harbors insecurities and would rather hang out with horses than people.
Sponsored by his uncle, the Shah of Iran, Dariush—David—Akbari, a twenty-five-year-old NYU grad with a degree in International Law, is also a skilled polo player. He joins the royal traveling team for a tournament in Plano, Texas.
A decade in America has gradually altered David's views on certain aspects of his culture. Torn between familial obligations and his adopted country, David resists the idea of returning to Iran so soon after graduation.
At the traditional after-party, David strikes up a conversation with Ginny, who is refreshingly honest. He receives an invitation to visit Tate Stud Farm and, on the pretext of buying another polo pony, persuades the shah to make a detour.
Great horsemanship coupled with self-effacing charm sets David apart from the entitled braggarts who normally populate the sport, and Ginny falls hard. His visit turns into a life-changing week that neither can foresee. Will they walk away unscathed or live to regret their impulsive behavior?
Inspired by events preceding the fall of the Pahlavi dynasty, Finding Our Morning is a love story that catapults us from Texas Hill Country to the epicenter of a monarchy on the brink of collapse.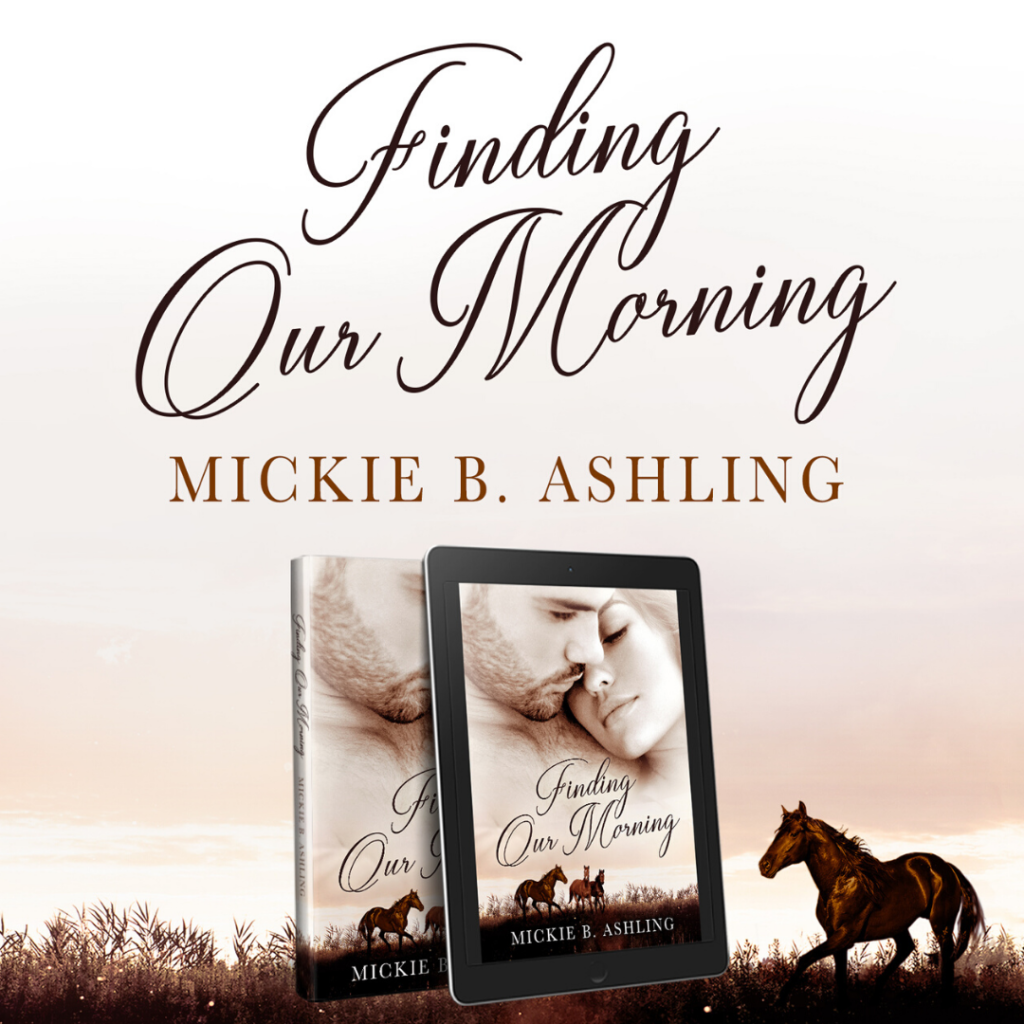 Excerpt
Finding Our Morning
Mickie B. Ashling 2020
All Rights Reserved
San Antonio, Texas
May 1977
Chapter 1
In the back seat of the Chevy Suburban, Ginny listened with half an ear to her parents' conversation while staring out the window. As the familiar landscape whizzed by, her stomach ached and her chin throbbed; an unpleasant reminder that nothing had changed. She was the same awkward girl she'd been a week ago, not some new-and-improved version because she'd turned eighteen yesterday, and was hell-bent on leaving her childish insecurities behind. Plagued by postpubescent acne for years, Ginny had assumed—as did her dermatologist—the hormonal imbalance would pass in due time.
And it had.
Mostly.
But she'd woken up this morning to find the nastiest zit on her chin that no amount of Clearasil could disguise. Today of all days! She had planned this trip to the Willow Bend Polo and Hunt Club in Plano, Texas, for months. It was a five-hour drive from San Antonio, where her family lived and bred horses, and her parents had agreed to accompany her and give up an entire weekend, a hard-won victory considering the couple rarely took a day off. Backing out at the last minute because her old nemesis chose this particular day to reappear was unthinkable. She'd looked forward to this trip for months. In a sense, it was her coming-out party, the first time she'd stand toe-to-toe with the clients who'd patronized their stud farm for years.
But nature was a fickle bitch and had, for whatever reason, decided to remind Ginny who was in charge. Pep talks notwithstanding, Ginny had shied away from the public eye for years. It didn't matter that she excelled in math and science and could outride anyone in her immediate vicinity. While other girls were consumed by the latest fashion trends, Ginny was learning how to muck out a stall; feed and groom; do a visual check for cuts, scrapes, or puncture wounds; clean the horses' hooves, look for cracks or loose shoes; maintain a tack room; apply simple first aid; repair fences; wrangle; brand; assist in live covers and subsequent births; and even play polo as well as any guy. But her peers still called her "pizza face" behind her back.
And it tormented her.
This derogatory nickname had stuck until she graduated, and even though her complexion had long since cleared up, the experience had left an indelible scar. Ginny continued to see the creature she'd been rather than the person she'd become.
That morning, her parents had dismissed her concerns when they heard her yelling at the mirror above her bathroom sink. They claimed the red spot was only a tiny blemish on an otherwise beautiful face.
Right.
They were supposed to say that. It was their job to keep her upbeat and confident. And she'd woken up in fine spirits until she peered at her reflection and spotted Mt. Vesuvius. Doing her best to get rid of the ugly white-tipped mound, Ginny squeezed until she was satisfied she'd obliterated the motherfucker.
In the car, she grabbed an ice cube from the cooler by her feet, where her mom had packed a picnic lunch, and buried it in the washcloth she'd yanked on her way downstairs. Settling in for the duration, Ginny held the cool cloth against her sore chin. Five hours was more than enough time to reduce the swelling.
This high-goal polo tournament, featuring an assortment of celebrities, had been advertised for months. Ginny looked forward to this event as much as any eighteen-year-old anticipated her first trip abroad. As the only daughter and heir to a lucrative stud farm specializing in polo ponies, the public was curious to meet her. Although they were aware of her existence, many wondered if she was some sort of halfwit because she was never around during negotiations. No one knew this was part of her plan—to make a grand entrance with her head held high as she shook hands with the different men and women who dominated the sport.
One of the most famous was Cecil Smith, now in his late seventies. He'd been a 10-goal player for twenty-six consecutive years. It was the highest ranking one could attain in the sport and Ginny was eager to meet the man. His glory days marked the zenith of American polo, and long after he'd retired in 1967, he continued to ride and train polo ponies on his ranch out in Boerne, not too far from the Tates' San Antonio home.
There would be other celebrated players from different parts of the world. The Argentineans, current leaders of the sport, the Domecq brothers from Spain, a team of blue bloods from the UK, and the Shah of Iran with his usual over-the-top entourage. He wasn't the best player in the world, but his presence added gravitas to any event. Ginny couldn't wait to check out his horses and equipment.
Once upon a time, she'd dreamed about joining a women's polo team and touring the world, but it had been unrealistic given her age and social anxiety. Now she focused on breeding the magnificent animals that might end up on a winning team. Knowing she played a part in a polo player's success was almost as good as being a participant.
Approaching their destination, Ginny glanced in the hand mirror she always carried in her purse, and was pleased to see a more subdued landscape, one she could doctor with concealer. While applying the liquid with gentle pats, she was derailed when the Suburban lurched to a stop behind a long row of vehicles leading to the main gates of the club.
"Gosh darn it!" her father exclaimed, narrowly avoiding the truck in front of him.
"Dad!" Ginny protested when her hand slipped and makeup streaked wildly.
"Raymond!" Margery Tate seconded.
He banged the steering wheel in frustration. "Not my fault these morons can't drive for shit."
Ginny worked fast to try to repair the damage. At last, she was satisfied with her appearance. She put away her makeup bag and looked out the window. Impressed by the large crowd, she whistled with approval. "Is this normal, Dad?"
"Par for the course when it comes to polo tournaments with an international cast of players. People who never show up for regular games are here to ogle the celebrities."
"Let's hope it's worth it," Margery remarked. "I'd hate to come all this way to see a mediocre tournament, big shots notwithstanding."
Ginny smirked. Her mother was a practical woman who rarely stopped for fun. She had her hands full from dawn to dusk and treasured her Sundays more than most. If this was a wasted trip, they'd hear about it during the ride home, especially since they planned to stay the night to break up the long drive. It would be midday by the time they got back to the ranch.
"It's going to be fine," Ray assured his wife. "Don't work yourself into a lather for no good reason."
Margery let out a deep sigh.
After the slow crawl up the driveway, they followed the rest of the vehicles to a large parking lot. Attendants in flashy cowboy attire, custom-made for show, directed traffic. Ginny could appreciate the magnitude of the task lying in wait for the people in charge. There were hundreds of spectators walking about and craning their necks for a chance to spot someone famous. She arranged to meet her parents once the game started, and they parted ways so she could explore. Attired in a red-and-white polka-dot wrap dress, platform wedge sandals, and a stylish straw hat to keep the sun off her face, Ginny blended into the crowd.
There were five polo fields in all. The main field in front of the clubhouse would remain empty until the tournament started, but the other four were occupied with riders practicing their swings and turns. Ginny headed for the closest one and fell in with a bunch of grooms who were tending their masters' ponies with absolute devotion. Four ponies per player were the ideal number. There were six chukkers in a game, and by the time the rotation landed back on the first pony, he would be well rested. Injuries were part of the sport, for horses and riders alike. Getting ridden-off during the course of a match or bumped, a maneuver similar to a body check in hockey, was commonplace. Horses also got hit by rogue balls and mallets, leaving them momentarily disabled or out for the count. The number of ponies waiting their turn might appear excessive to an outsider, but a player could be severely handicapped if he didn't have a fresh mount per chukker.
Many of the men who served as grooms were amateur polo players and felt wins and losses as keenly as their employers. Early on, Ginny learned the best way to get the full measure of a rider was by eavesdropping on the guys in charge as they kept a watchful eye on the polo field. Standing as close as possible, Ginny was within earshot of the comments that were usually peppered with mild expletives and friendly wagers. Excitement coursed through her veins as she heard the familiar sound of hooves galloping across the field. The smell of grass, horse manure, and leather combined with the whoops of excitement from the men on horseback gave her goose bumps.
She'd had a thing for polo players for as long as she could remember. There was something indefinably masculine about the men who played the game that appealed to her senses. Unlike a lot of rodeo events, polo was more than a rough sport. One had to be a keen strategist to excel. Anticipating an opponent's next move was the only way to stop them before they got in position to score a goal. It was a chess game on horseback, and the best players were the right combination of brains and brawn. Even from a distance, she could spot the strongest players, and one in particular caught her attention. The number three was embroidered on his shirt—typically awarded to the most powerful hitter with the highest handicap.
Turning to one of the grooms, she asked, "Who's on the field?"
"The Iranians and the Brits, miss."
The groom, a dark-skinned man who spoke with a heavy accent, was decked out in royal blue livery; the same hue as the uniforms worn by the four members of the Iranian team. The ponies' blankets, tail ribbons, and leg wraps were also the same shade of blue.
"Do you know number three in blue?"
"The shah's nephew, Dariush."
"He's good," Ginny remarked.
"Very good, miss. The shah is always in a better mood when his nephew can play."
"Isn't he a part of the regular team?"
He shook his head. "Dariush attends college in New York City. He's on break at this time."
"I see."
Turning her attention back on the field, she could tell this favored nephew was an expert horseman. He and his pony were deeply connected, part of a seamless dance only a fellow rider could spot from a distance. She looked forward to watching him during the actual game.
Author Bio
Mickie B. Ashling is the pseudonym of a multi-published author who resides in a suburb outside Chicago. She is a product of her upbringing in various cultures, having lived in Japan, the Philippines, Spain, and the Middle East. Fluent in three languages, she's a citizen of the world and an interesting mixture of East and West.
Since 2009, Mickie has written several dozen novels in the LGBTQ+ genre—which have been translated into French, Italian, Spanish, and German. Lately, her muse has been nudging her in a different direction, and she's learned through past experience to pay attention to creative sparks that show up unexpectedly. Her pen name is a part of her now, and will travel along on this exciting new journey, wherever it might lead. She promises to be very specific in her book blurbs and cover art to avoid any confusion.
Giveaway
Enter for the chance to win a $25 Amazon gift card