Yuletide Treasure, Goddess-Blessed #3), Eliot Grayson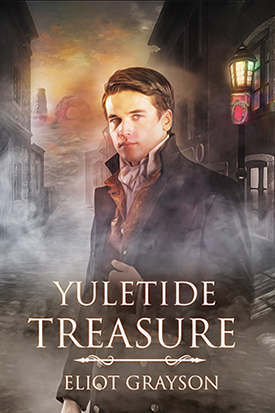 Rating: 5 Stars 
Publisher: Smoking Teacup Books
Genre:  Gay Romance
Tags: Christmas Classic re-imagining, Alt-Historical, Supernatural Element, Series (standalone), Humour, Mystery 
Length: DK
Reviewer: Kazza 
Purchase At:  amazon 
Blurb:
There's not enough Yuletide spirit in the world to fix this holiday disaster…
Eben Sypeman's world is falling apart. It's two days before Yule and his business partner is dead, leaving behind empty accounts and looming bankruptcy. And if that isn't bad enough, his patron goddess is irritated with him. It seems she's tired of his tendency to mince words and avoid conflict. She's insisting—quite forcefully—that he start being totally honest with everyone, including himself. Divinely enforced honesty couldn't have come at a less opportune time, especially when his clerk's tall, dark and distractingly handsome son enters the picture.
The last thing on Tim Pratchett's mind is romance. All the former soldier wants is to fill in for his sick father at work and recover from his war wounds in peace. But there's something about the grumpy Eben that confounds and entices him in equal measure. Their timing couldn't be worse. They're complete opposites. And yet…none of that matters when he's with Eben.
But if Eben and Tim have any hope of finding their very own happily ever after, they'll have to survive a dickens of a truth curse and the machinations of a trickster goddess—all while searching for enough yuletide treasure to save them all.
A joyous, relaxing Yule indeed. Bah, humbug.
This is an M/M romance with explicit scenes, a voyeuristic pagan goddess, and an odious nephew. Despite any other possible similarities to A Christmas Carol, there are neither ghosts nor geese, but readers can expect a happy ending and at least one use of the word "dickens."
Review: 
Yuletide Treasure is a charming and romantic retelling of Dickens' A Christmas Carol with gay MCs.
Eben is shutdown and insular but he thinks about responsibility for others who rely on him. He's learnt to keep his true self at bay, partly because he doesn't like conflict and partly because his now deceased senior business partner was cranky and miserly, but Eben has a decent heart within. Then his goddess, Althyone, pays him a visit to help bestow her blessing and to help him understand what his future happiness, or not, could look like. How things could be different based on his actions. She's a bit of a saucy wench, is Althyone, popping up at pervy moments. 🙂 She's also rather direct, and wants the best for Eben, even if at first he does think it's a curse. I liked her sass and her attitude, and it was nice to actually be familiar with Eben's goddess. She represents what were originally the ghosts of Christmas past, present, and future in A Christmas Carol.
It was 'go big or go home' writing when the author wrote (Tiny) Tim all grown up… and gay. I had to wrap my mind around it at first, then I loved it. He's a rather dear character in the original and again in this version by Eliot Grayson.
There is insta-attraction, but if you can believe in a goddess popping by, supernatural elements, then quick attraction can't be a real stretch. The sexual connection isn't particularly steamy, there's one scene where it is and the rest are more sensual and romantic, kissing with intent and passion included.
There is a mystery, of sorts, surrounding company funds which is also at the heart of this tale.
The prose is beautiful, never lapsing into a contemporary nature, perfectly transporting the reader to another time and place – as it should.
Delightful. Sweet. Seasonal. I give
Yuletide Treasure
5 Festive Stars!
.