Temporary Insanity (Temporary #2) H L Day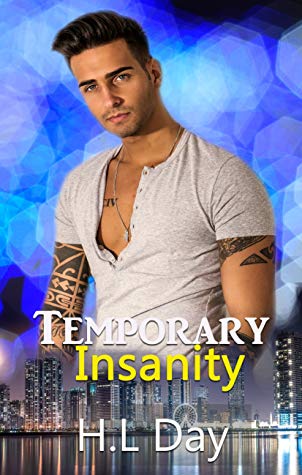 Rating: 4 Stars
Publisher: Self Published 
Genre: Gay Romance
Tags: Contemporary, Humour, Sexy, Standalone Within Series
Length: 226 Pages
Reviewer: Kazza
Purchase At:  amazon
Blurb:
Sleeping with the enemy never felt so good.
When Paul Davenport comes face to face with the man he caught in bed with his boyfriend years before, it's hate at first sight. Well, second sight. Indy should be apologizing, not flirting. Except the gorgeous barman is completely oblivious to their paths ever having crossed before. Despite his feelings, Paul's powerless to resist the full-on charm offensive that follows. It's fine though. It's just sex. No emotions. No getting to know each other. Just a bout of temporary insanity that's sure to run its course once the simmering passion starts to wear off.Only what if it's not? Indy's nothing like the man Paul expected him to be from his past actions. What if they're perfect for each other and Paul's just too stubborn to see it? Forging a relationship with him would require an emotional U-turn Paul might not be capable of making.There's a thin line between love and hate, and Paul's about to discover just how thin it really is. He can't possibly be falling for the man that ruined his life. Can he?
.
Warning: This book contains hate sex—sort of, lots of banter, and a pink elephant. No, really it does. Actually, two elephants.Please note: Although this book is in the Temporary series, it occurs during the same timeline as A Temporary Situation. Therefore, both books can be read as standalones and in any order.
Review:
.
Paul ends up at the Silver barrel, a local bar, one night and discovers one of the bartenders is the guy he caught in bed with Stephen, his ex, three years ago. He has a long memory for cheating. The bartender doesn't recognise him though, and more than that, he flirts with Paul. Paul is pissed he doesn't recognise him, and the fact that this guy is flirting with him backs up his ex's excuse that he couldn't resist someone like him when he was pursued so hard, a bullshit excuse if you're monogamous. Still, Paul feels the righteous indignation of it all. This book is told from Paul's POV so you get his thoughts and you get a bird's eye view of where he stands throughout.
I have to say that my clippings of this book had a lot of me cursing out Paul. He's somewhat judgemental and believes there's one side to a story when it suits him to, which is often. If I printed out more than a few things he does and he says it would look like I was more than a little mad for rating Temporary Insanity 4 stars, but the book is good. The characters work, the humour funny, the sex is great. It's a good balance.
Indy is the name of bartender, short for Indigo, and right from the beginning I thought Indy was amazing. For about 50% of this book I questioned his sanity wanting to be in bed with Paul let alone knowing, because you do, that he likes him a lot more than he ever says. H L Day writing this book as she did made a lot of sense because if you were to directly see and feel how Indy was falling for someone who tried everything to sabotage what was clearly a good thing for himself, you'd end up having so much sympathy for Indy while hating Paul. Allowing Paul to be the voice, to see him unfurl feelings and come to realisations made this work.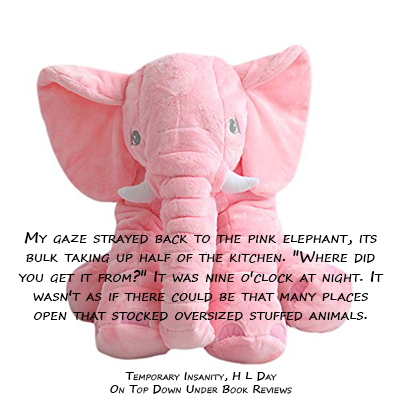 There are two friends of Paul who have plenty of page time, Russell, who also works where Paul and Dom work, the blushing virgin I assume is getting the next story in the series, and Gabrielle. The latter is like a seer, all knowing and seeing. She's funny though, larger than life. She does help Paul get his head on straight at times, albeit in some zany ways. Russell is the office gossip and Gabrielle likes to aid and abet in spreading the ins and outs. She's the one who initially suggests Paul "hate-sex" Indy. Nothing like some good old hate-sex to get someone out of your system, and it feels good while you're doing it. Only flaw here is you can often fall for the person you're having sex with when they're as nice as Indy. Plus, hate sex. Indy wants to know what that actually means.
Indy's face took on a pensive expression. "So… hate sex? You better tell me what it entails. Just so I'm clear. I'd hate to get it wrong and risk upsetting you. Do we hurl insults at each other while we're fucking?"
Good point.
On top of the developing relationship between the MCs, there is also the story of Dom, Paul's best friend, and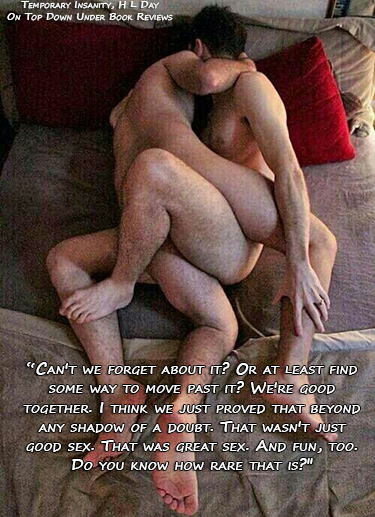 Tristan, the CEO of where both Paul and Dom work. Their relationship was told in book #1, A Temporary Situation, which I haven't read. This is definitely a standalone so you can pick up Temporary Insanity without concern you've missed something.
Paul and Indy, when Paul isn't being hung up on his resentment, have a lot in common, and it isn't anything to do with Stephen. Their respective families are both wealthy, both want their sons to work for them, and both refuse so they can remain independent. Paul thinks he hates tattoos and piercings, but he doesn't, not really, he loves Indy's, although he won't admit it for some time. Their sex is mind-blowing, Indy is giving and Paul likes and needs this characteristic in a partner. Indy is easy going to Paul's stubborn rigidity – a real compensatory relationship if there ever was one.
Overall:
H L Day has this way of making me love her characters and their situations. Things I often don't like in other contemporary romance stories, this author has me sucked into because she writes them so well. Characters are very important to me and Day breathes life and soul into her characters. She also writes a thoroughly engaging tale. This book evokes emotion, I wanted to slap Paul, I wanted to hug Indy, but Indy is no pushover, he asserts boundaries. I cheered for Paul finding his feelings and voicing them. I was happy for Indy's happiness. I was glad when Paul was supportive of Indy when it was required, especially at two parts of the book. Most of all, I enjoyed Temporary Insanity and I really liked these guys falling in love. 4 Stars!
I'm now adding a **SPOILER** Do NOT read any further if you want to go into this book without knowing a somewhat integral moment or aspect.
We get to know something is an issue for Indy before he met Paul, it's referenced vaguely as Paul not knowing all the facts in relation to his thoughts about Indy being slutty, about Indy's past, but it isn't elaborated on until later in the story when there's another scare around this "something." Indy is in remission from leukaemia, something my husband battles. I was not expecting this. It isn't concentrated on, but it's still relevant to the story and it completely blindsided me. So be aware if this is a trigger for you, it was for me and it stung me unexpectedly. Otherwise I want to stress that this was a fun, humorous, sexy and lighthearted book.