Mine to Save (Pine Ridge Pack #1), Jayda Marx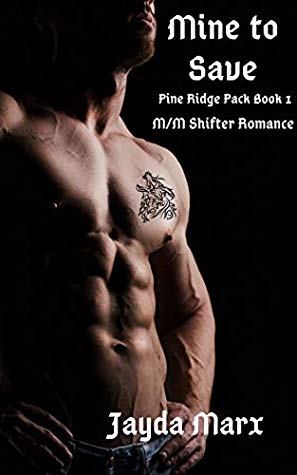 Rating: 4 Stars
Publisher: Jayda Marx
Genre: Paranormal Gay Romance
Tags: Paranormal, Fated Mates/Insta-Love, Romance, Series, Virgin, Wolf Shifters
Reviewer: Cindi
Purchase At: Amazon.com
Blurb –
Phoenix – Though our beginning was marred by tragedy and our number is small, I couldn't be prouder to be the alpha of the Pine Ridge Pack of wolf shifters. We protect each other and our land, where we reside in homes built by our own hands. Our job gives us pride and purpose, and we get everything we need from the land and the nearby town. Everything except one. Every shifter has one true soulmate granted to them by Fate; one person they are to love, protect and cherish for all time. Once we find our destined match, we dedicate our lives to protecting them, providing for them and ensuring their happiness. When I find mine, I'm captivated by his intoxicating scent and struck by his incomparable beauty. But his circumstances are dire, and I pray I'm not too late.
Rory – After being kicked out of my house for being gay, I moved to the city with my best friend Dax in search of a fresh start and acceptance. He's my family and supports me in everything I do. He's all I have in life; well, besides my crappy, low-paying job and my love of photography. That love pushed me to save every penny possible for months to purchase a new camera. I decide to take it into the forest to capture the beauty of nature, even though I have a terrible sense of direction. And a body that's not built for hiking. And zero endurance. What could go wrong?
*This M/M paranormal romance is for readers 18 and up! It has no cliffhangers or cheating and a very happy HEA. It contains a sexy wolf shifter, his devoted pack and his lovable fated mate. Look out for lurking dangers, heartwarming moments and steamy scenes! My books are low angst and insta-love. They're full of sexy moments, sweetness and a healthy dose of humor.
Review –
This is my third Jayda Marx book in a couple of days. While there are a couple of things that give me pause, I'm enjoying them.
Mine to Save is your classic fated mates/insta-love story. The alpha scents his mate only to find him injured. He takes him to his home and nurses him back to health, desperate to complete the mate bond. His mate is a human, Rory. An amateur photographer, Rory had saved for months to buy a fancy new camera. When his best friend Dax isn't able to go hiking with him to take photos, he goes by himself. But trying to get that perfect picture almost gets him killed when he leans over a wooden barrier to take a photo and the wood breaks. Rory falls thirty feet, convinced he's going to die. He wakes up at some point to see a wolf leaning over him. After telling the wolf to wait until he falls back asleep to eat him, he passes out again. The next time he wakes up – with the exception of opening his eyes once and telling Phoenix (in his human form) that he has beautiful eyes – he's in a strange bed, stripped down to his underwear, and being held by a total stranger who's also in his underwear. After freaking out a little, Rory knows somehow that he's not in danger.
Phoenix is the alpha of the Pine Ridge Wolf Pack. After his father was killed for the position of Alpha of Phoenix's former pack, he and two of his pack mates, Stone and Rowan, leave to form their own pack. In one moment, Phoenix lost his father, his mother, and his brother. Stone and Rowan are his brothers now. Finding Rory, his fated mate, makes his life complete. He still misses his parents terribly, but he's content with his friends and Rory.
As is the norm with this author's books, it takes next to zero time before Phoenix and Rory are a couple and the L word is spoken. The difference is that this is a fated mates book and they both feel the mate pull so it's definitely expected. Phoenix is amazing from the get-go, as are Rowan and Stone. I like Rory too. I just felt that his 'baby' to Phoenix sounded forced. When Phoenix called him sweetheart, it felt natural. I'm all about endearments, as I've said before. I live in the South where there's a pet name for anybody and everybody. 😉 Strangely, when Rory called Phoenix baby, it just didn't feel right. Maybe it's because he's young, innocent, and extremely naive. No matter. I enjoyed them as a couple.
There's a little bit of drama when someone from Phoenix's past makes an appearance, but it's over rather quickly. There's some violence, some descriptions of which are a little graphic, but nothing too bad.
As much as I enjoyed Rory and Phoenix, the character that really stood out for me wasn't even a main character. It was Rory's best friend Dax. Dax is a little overweight and living with a loser boyfriend who is constantly putting him down and calling him names because of his weight. The guy, Justin, isn't on-page but he doesn't have to be. My heart broke for Dax because his so-called boyfriend ruined any and all self-esteem he may have had. Dax is constantly criticizing himself and it's really heartbreaking. His story is next – it was led into at the end of this one – so I'm eager to see him find his own wolf and his own happily-ever-after.
Another thing to note is that this is NOT mpreg. While I enjoy those on occasion, it seems like that's all that's recommended to me on Amazon and everywhere else. It was nice reading an Alpha/mate story that didn't involve a pregnancy. Rory is not a human omega, he's Phoenix's mate.
I got confused a couple of times in this book. The author writes very descriptive sex scenes – not a bad thing – but during one specifically, their positions were all over the place. In one paragraph, Phoenix was in front of Rory. The next sentence or so, he was reaching around to grab Corey while he was grinding against his ass. Considering that the sex scenes are long and descriptive, this went back and forth basically throughout the whole scene. Not really that big of a deal, but it did have me rereading a couple of scenes more than once.
Overall, a good book and a nice start to a series. I'm looking forward to reading Dax's story.