Unholy Craving (Sinful Natures, #1), Lynn Burke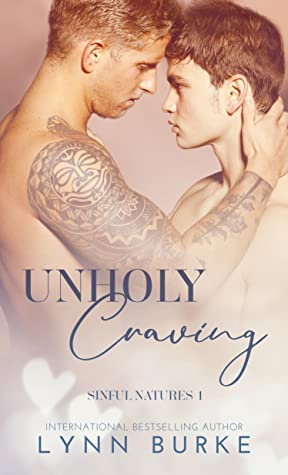 Rating: 3.5 Stars
Publisher: Self Published 
Genre:  Gay Romance
Tags: Taboo: Youth Pastor and Pastor's Teen Son,  Hurt/Comfort. TW: Religious Themes
Length: 344 Pages
Reviewer: Kazza
Purchase At: amazon
Blurb:
As a newly appointed youth pastor, I blindly walk by faith, stumbling without the promised light down God's chosen path.
Until a young man resurrects the sinful nature I've rejected in my strive for purity.
Isaac Van Dusen, my pastor's son.
He's troubled. Rebellious. Off limits to my lonely heart, yet gives me breath when I feel I'm drowning and in need of a savior.
Isaac's hunger for sin rivals mine, the kind that consumes.
Burns like fire and brimstone.
I'm determined to stay in a constant state of prayer, begging for delivery from temptation—all while dreaming of being on my knees for entirely different reasons.
I want to submit to the unholy craving between us and worship the young man entrusted to my spiritual care.
But acting on the lusts of the flesh ensures our fall from grace, and I can't allow him to be the second one to pay the price for my sins.
Even if it means living a lie for eternity.
Review:
This book has a thoughtful cover. It is Malachi and Isaac. It's also beautiful to look at. The cover and the blurb sold me because the author was an unknown to me prior.
Twenty-sex-year old Malachi is the new youth pastor at Elkins Church and Bible School in Pennsylvania. Malachi has inner turmoil about being gay. He also carries scars from his first love's death. He feels his unholy craving contributed to Brian being struck down. So Malachi has a lot of baggage he's carrying around. As soon as he sees Isaac, though, he's thinking things he shouldn't, no matter that he continually tries to keep Isaac at arm's length. It's pretty hard to do because Isaac's father, Pastor Bram, keeps pushing them together. He thinks Malachi will help his rebellious son calm down. Someone nearer Isaac's age will help relate to him and make him closer to God and the Word. Oh, the irony.
This book is full of sexual tension. It's definitely insta-attraction, it's love fairly quickly too but that isn't acted on for a while. They have to go through a lot of internal rumination and pondering. Malachi asking Him (God) to help and guide his way. He also talks to a colleague who is a religious counsellor. Zeke is a good friend who wants Malachi to stay the path and not give into his base desires, but he's somehow not written as preachy, which was well done, and I quite liked Zeke.
Throughout Unholy Craving, there are moments of touch and desire and longing, in between Malachi's angst and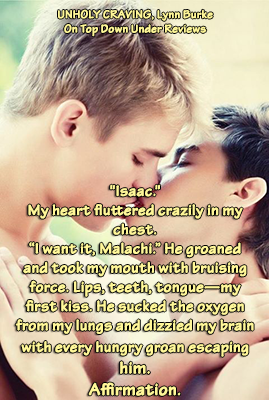 torment and Isaac's frustrated, fractious, and hormonal teenaged behaviour. One of the things that bonds them is that they're both musically inclined. Before he became a youth pastor, Malachi went to Nashville with a dream and some… complicated results. He discovers that this is Isaac's dream as well, to go to Nashville, get signed to a label, to become a singer/songwriter. He understands it personally but is also worried about what will happen to him. Isaac is constantly writing lyrics down that have double meanings. The music teacher wants Isaac to sing in church choir and to also get in contact with her cousin in Nashville who's a producer.
This author has some real writing chops. I'd read more books by Lynn Burke in the future. I will more than likely read Zeke's story next. While the trope is a favourite of mine, the pastor's taboo desires, religious themes and moral ambiguity, Unholy Craving leaned too much into inner rumination at the expense of the chemistry development between Malachi and Isaac. They don't actually speak for about half of the book, Malachi frets and self-flagellates, and worries, Isaac is angry and bratty.
I found Isaac way too confident for a virginal seventeen year old raised in a fundamentalist church. He was doggedly persistent in his pursuit of Malachi, which, to be honest, is representative of the overall more erotic nature of the storytelling. He also sounds more worldly than Malachi who has actually slept with men and is nine years his senior. If you are looking for the more erotic without more religious and personal depth, just the idea of the naughtiness of it all, then this may work perfectly for you.
If the author reads this review, then I'd like you to know that the use of the word "pansy" is derogatory. In gay romance, or mm, it should not be used. It just shouldn't be used, full-stop. It's offensive on several levels.
The day's work lasted longer than the one before, and until I finished, I just wanted to curl up in bed and cry like a pansy.
Overview:
This book offers a somewhat cheeky diversion. The sex is hot, the author knows how to write a sex scene, although, what's with planking? The overall reading is easy going. I wanted to know what would happen to Malachi and Isaac so I stayed the distance with them, not something I've been able to do a lot of lately. 3.5 Stars!