Mr Montague & the Pineapple (Campion Square, #2), Adella J Harris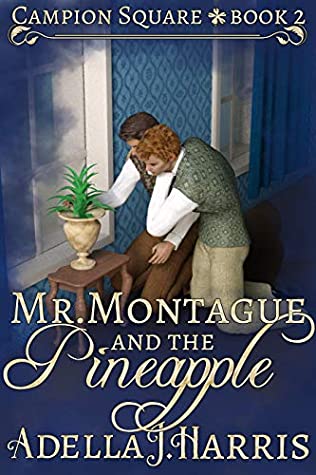 Rating: 4 Stars
Publisher: Self Published
Genre:  Gay Romance
Tags: Historical, England, Regency Romance, Art, Botany, Mystery, Friends to Lovers, Standalone Series 
Length: 314 Pages  
Reviewer: Kazza
Purchase At: amazon
Blurb:
Print-maker Peter Marsham can't believe he owns a house of his own on Campion Square, and all from the sale of his artwork. Youngest son of an earl Cecil Montague has been banished to a boarding house on Campion Square by his father. They meet when Peter finds Cecil digging through a rubbish heap to rescue the remains of a pineapple, thinking he's in need of help, and ends up offering to let Cecil attempt to grow the pineapple in his spare room.
Just as Peter and Cecil are beginning to sort out their feelings for each other, a series of thefts are reported in the square, and Cecil becomes a suspect. Now they must find a way to clear Cecil while keeping their secrets.
A gay – M/M romance set in Regency England. Approximately 80,000 words print version. 314 Kindle pages.
Review:
I was absolutely not going to buy this book. I mean, that title. But, then… I mean… that title. It's weird. I'm weird. Pineapple is my absolute favourite fruit. I love gardening and I grow bromeliads. Pineapple happens to be one. That cover is strangely beautiful as well. I'm a sucker for covers, and weird titles about fruit that I love, clearly. So, I downloaded a sample because I really didn't trust my judgment on this book. The sample was nice. I was sold so I bought the pineapple book and here I am.
Cecil Montague is the third son of an earl. Never especially good to be the second child onwards in any sort of aristocracy. Especially one that the father, the Earl of Shepley, has a deep-seated dislike of. Sure, you get to have Honourable in front of your name but the rest of it is all gobshite. Anyway, Cecil Montague lives in a boarding house on Campion Square. He's unemployed thanks to the bullshittery of his father, so he works Campion Square's gardens, weeding, maintaining, planting, and on one occasion he spots the crown of a pineapple in some muck and decides he'll give planting and growing it a go. Pineapples were exotic, expensive stuff back in the day. And you can plant them and grow them this way. Let it dry out a bit, take off some leaves, and plant it, making sure it has sun and warmth. Tada! You can have your very own pineapple plant. While he's rescuing the pineapple crown, Mr Marsham from #19 offers him some help and he offers a room in his house for the plant to grow in warmth and sunshine. It gives them opportunity to talk. It also brings up an excellent opportunity for Mr Marsham to do a print collection on the growth and lifecycle of a pineapple. He's done nicely for himself as a print artist and be believes this will add to what people like to buy. He also sees how much Mr Montague knows about plants and offers him work writing essays on each little step of the print work. This could give Cecil a chance to become more independent and get away from his father's financial control.
There is depth to this book. Someone is stealing items in and around Campion Square and Mr Pearce of the watch (police) is investigating. So it's a mystery as well. The theft brings Pearce, disconcertingly, back and forth again and again into Cecil and Peter's lives.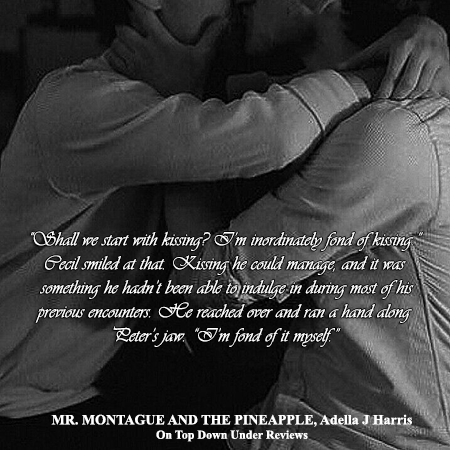 Cecil is worried immensely about it in the beginning, believing that his sexual orientation can be seen through his skin. His father seemed to know. It's like Mr Pearce just (somehow) knows he's a "lover of men," that he holds feelings for Mr Marsham, and that he knows he goes to the Chalice and Child, a Molly House come pub, with Peter on occasion. He also believes that his father has spread falsehoods about him to all and sundry so he feels not only like a suspect in a crime but that he has the wrong sexual inclinations. I felt the tension and worry in Cecil's gut every time Mr Pearce came calling. Cecil is also a lonely man, yet again attributable to his father, living in a boarding house with no job prospects, an emotionally impoverished landlady, and men who come and go with work and changed living circumstances. When Mr Marsham extends a friendship, an opportunity to write essays for his print work, Cecil can't believe he has a friend, and one who seems to know which way his sexual orientation lies. He is so grateful for a friendship it nearly broke my heart. There is, of course, much more lying beneath the surface as this is a gay romance set in a time when it was illegal to be same sex attracted.
My Thoughts:
Mr Montague and the Pineapple is the most innocent, guileless book. The MCs are a delight. Adorable. Sweet. I wanted to hug them, especially Cecil. I wanted to shake Peter's hand and thank him for his kindness. I am so glad they found each other.
The writing isn't fussy or cumbersome. It's rather endearing and speaks to you like an old friend. It's gentle storytelling with a little bit of sex, just enough to give you connection and intimacy but not so much as to make it seem lewd. And it easily could have because of the nature of the book. It's very well done.
There is a friendship at first which develops into much more. Like the rest of the book, it is never overwhelming. It's a little dib of this and a little dab of that, and voila! Chemistry. It's the right balance.
But most of all, I love them talking about the pineapple like it's a sentient being. That was everything to me. I talk to inanimate objects and to plants all the time. I also talk about plants. So pineapple whispering is my scene. These are my people.
Mr. Marsham looked up, hesitated, then smiled as well. "Mr. Montague. Good evening."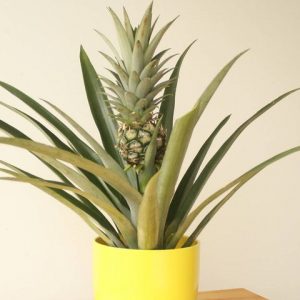 "Were you going home? We could walk that way together."
"I'm afraid I wasn't. But if you wanted to visit the pineapple, the staff all know to let you in."
***
"I'm glad you like it here. And seeing as we are visiting a molly house and raising a pineapple together, it might be time for you to call me Peter."
Cecil smiled. "Then I insist you call me Cecil, Peter."
"Very well, Cecil."
Pineapple visitation, and gentle men on a first name basis raising a pineapple together made this reader sigh in happiness. More pineapples, less war.
The only reason that this book didn't get 5 stars is that it gets a little bogged down in the print side of things at one or two stages, but at the same time it was nice to see just how much the author seemed to know the subject matter.
While it appears there is an interlocking nature between house numbers and people in Campion Square, this was a standalone book. The nature of the blurb of this series book appealed to me out of the three available. Will I revisit Campion Square? If I feel like a calming read, then this would be my go-to for late night relaxation with a book in hand. I'm so very glad I decided to try this book. Charming Regency romance storytelling by the author, Mr. Montague and the Pineapple gets 4 Stars!