Book Blitz: Behind the Sun, Above the Moon

Title: Behind the Sun, Above the Moon
Author: Ziggy Schutz, Paige S. Allen, Brooklyn Ray, J.S. Fields, S.R. Jones, Alex Harrow, Emmet Nahil, Sara Codair, Anna Zabo
Publisher: NineStar Press
Release Date: February 17, 2020
Heat Level: 3 – Some Sex
Pairing: M/NB, F/NB
Length: 91300
Genre: Science Fiction/Fantasy, LGBT, contemporary, fantasy, science fiction, trans, nonbinary, magic, short stories
Synopsis
A Queer anthology inspired by magic and the cosmos, a vast and beautiful place where planets, stars, comets—entire galaxies, even—live without borders, specifications or binaries. Stories span science fiction, science fantasy, contemporary, fabulism and magical realism, and celebrate Non-binary and Transgender characters.
twice-spent comet by Ziggy Schutz
From Dusk to Dying Sun by Paige S. Allen
Lost/Found by Brooklyn Ray
Awry with Dandelions by J.S. Fields
The Far Touch by S.R. Jones
Ink and Stars by Alex Harrow
Horologium by Emmet Nahil
Death Marked by Sara Codair
Weave the Dark, Weave the Light by Anna Zabo
Excerpt
twice-spent comet
On an isolated asteroid, Fer serves out their sentence with a found family of ramshackle criminals. Life takes an exciting turn when they befriend Ophelia, a beautiful humanoid creature with a tail like a comet.
From Dusk to Dying Sun
Jay Morrison almost believes the rumors of magic and mischief haunting the US-50. But their partner, Luis Inoa, has made a career guarding the dusty Nevada trails. According to him, the only scary things on the highway are the silences, until a group of tourists break open the sun and disappear into a fiery blaze.
Lost/Found
When Hollis Griffin, a lonely sex worker living in Venice Beach, forms an unlikely friendship with a fallen star, she begins to face the truth about her life, her past, and what the future holds.
Awry with Dandelions
For thirty seconds every night, a disembodied specter named Mette visits with Orin who has long since written the ghost woman off as a recurring dream. But when Mette suggests meeting in real life, Orin's inner world turns out to be more substantial than imaginary, and xie embarks on a journey to discover the truth of Mette and their strange connection.
The Far Touch
A long-standing coven of witches trek to their sacred space and accidentally discover life on another planet when their Solstice celebration interferes with a lone practitioner.
Ink and Stars
Locked in a contract to steal their ex-lovers ship, Chaz Neoma comes face to face with consequences, lost partnership, and the chance at a future, after discovering they aren't the last Weaver in the universe.
Horologium
In the far reaches of the Horologium Supercluster, an astronaux is stranded alone on a long-distance astral ship where they're visited by three apparitions, telling stories of ancestors who traveled space before them. Coeie must decide whether to follow the ghosts of the past, or forge their own path through the cosmos.
Death Marked
As chief security officer in the Lunar Guard, Enzi is in charge of the security for their sister's coming of age ceremony. A fragile relationship with their family doesn't make keeping Ulsa safe any easier, and neither does a group of pesky drones or a hidden plot to overthrow their sister's place in the family.
Weave the Dark, Weave the Light
On a crisp night, Ari, a supposed elemental witch, meets Jonathan Aster, a powerful being they desperately want to understand. As they explore an intense, intimate and passionate relationship, Ari unearths long-hidden mysteries about themself and their magic.
Purchase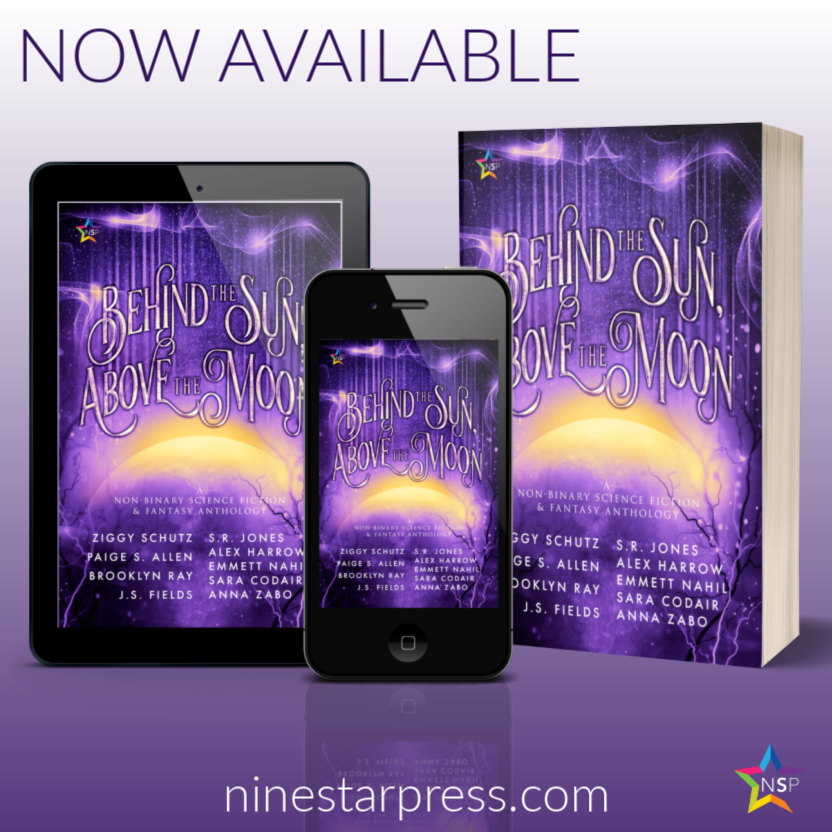 Giveaway