Audiobook Review: Pen Pal, J T Geissinger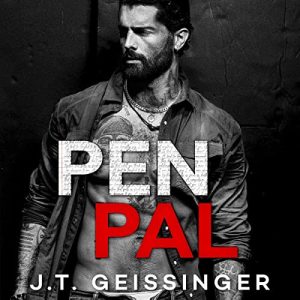 Genre/Tags: Het Romance, Dark Themes, Supernatural Themes, Suspense, Emotional. **TW on Author's Site Here
Author: J T Geissinger 
Story Rating: 5 Stars
Narrator: Tara Langella and Troy Duran
Narrator Rating: 5 Stars
Length: 7 Hours and 54 minutes 
Audiobook Buy Links: Audible
A number one international and Amazon Charts best-selling novel
The first letter arrived the day my husband was buried. It was postmarked from the state penitentiary, and contained a single sentence:
I'll wait forever if I have to.
It was signed by Dante, a man I didn't know.
Out of simple curiosity, I wrote back to ask him what exactly he was waiting for. His reply?
You.
I told the mystery man he had the wrong girl. He said he didn't. I said we'd never met, but he said I was wrong.
We went back and forth, exchanging letters every week that grew increasingly more intimate. Then one day, the letters stopped. When I found out why, it was already too late.
Dante was at my doorstep.
And nothing on earth could have prepared me for what happened next.
~
Warning: This novel contains content intended for a mature audience only. It is not suitable for sensitive listeners. Full list of TWs available on author's website.
Review: 
This book has something like 34K to 35K ratings on Goodreads and 24K on Amazon (as of this review's date.) Basically, it's been a huge success. It was released as a book in August 2022 but I solely listened to the audiobook version. I only discovered it because I somehow fell into a rabbit-hole of Troy Duran's on Facebook where I heard some snippets of his voice work and thought, 'this sounds good, Kaz, remember to grab a copy'. So I finally did.
There are so many reviews and opinions about Pen Pal already. I was late to the party, and I mostly review gay romance anyway, so I'll just add a small (for me) review with some thoughts, attempting to not have a spoiler review on the blog.
It took me a while to settle into the story of Kayla and Aiden but once I did I enjoyed Pen Pal very, very much. It's romance. It's dark. It's also supernatural and makes you think about the life we have. What might happen after. It's predominantly a story that builds on itself.
I didn't especially fall in love with the MCs, because the chemistry was hard to build the way this story's told. I still had an interest, but the real tug at the heartstrings chemistry came in the latter part of the book for me, then I was thoroughly connected with Kayla and Aiden. It's definitely different in construct. Kudos to the author for what she did with this story. It was the storytelling itself that sung to me. It's a little different and I was here for it. I can see why this has been such a successful book. I can also see why it upset some readers of contemporary romance. I believe prior to release, maybe just after as well, TW were thin on the ground which could be a source of problems. The blurb is a little off kilter for the story as well but I also understand why this is the case. My experience of Pen Pal was really good. I love a darker and non cookie-cutter tale and there are definitely TW on the author's blog for those who want to know exactly what they are if you're interested. I've linked them above in the tags and at the end of the blurb.
Usually for me it's the characters that grab me and make me stay for the journey but this time it was the story itself that hooked me. It's utterly intriguing and that's what kept me seriously riveted to the book. I needed to know what was going to happen. Also, as someone who does work with embodied experiences and the brain it was well and truly in my personal wheelhouse.
The MCs, Kayla and Aiden, are thrust into a relationship very quickly in Pen Pal. It's because the story and the character's narration is a deviation from the (expected) norm, even for darker romance. The author took a different route, which means we have a relationship between a woman who has recently experienced significant grief and a tradesman who comes around to help her with her house. They clash a little originally but are magnetically pulled back to one another. Be a little patient is my best advice about what is seemingly super fast attraction, about the timing, and the narrative. For a little while you may be trying to make sense of a number of things that occur. It will all make sense.
The book has plentiful sex scenes and they fit quite nicely. I happened to like the funny or cutesy monikers they gave one another – Bunny (Rabbit) for Kayla and Fight Club for Aiden. The Master/slave thing was a bit like a shag on a rock but the rest was nice.
So, Kayla's house is doing strange things, jars are flying out of cupboards, the roof is leaking, lights are flickering and blowing, a lot of storms occurring. A man seems to be spying on her but leaves no footprints in muddy ground. There is a little blond boy who appears on her lawn in the middle of acreage with no parents in sight. Aiden organises a friend of his to install security cameras but they catch nothing that Kayla is seeing.
A D-Type 1937 Buffalo coin that was her husband's lucky charm appears around and about, and in the oddest places, freaking Kayla out.
While all of this is going on, Kayla's relationship with Aiden gets hot and heavy and intense. She's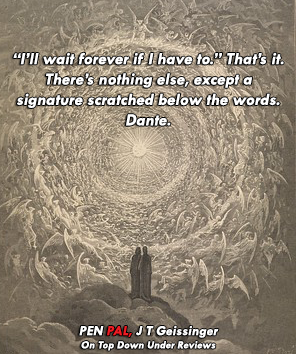 also receiving letters from a state gaol signed by someone named Dante. They are obtuse, abstract in nature, at times declaring deep affection, but she doesn't know anyone named Dante. She answers the letters, although she doesn't understand why, maybe it's the sadness of loss, and all the while, whilst seeing Aiden, she doesn't take off her wedding ring. She also can't seem to tell him her husband has died. The ring and what it represents increasingly upsets him until he sets some boundaries.
In amongst all of this Kayla's housekeeper, a Scottish woman named Fiona, talks to Kayla bit by bit about the house being haunted, that some spirits cannot rest because of the way they died. Perhaps it's revenge. Oh, and if she does see the ghost not to tell them they are dead because it can rattle them. Fiona then organises the sceptical Kayla to have a séance with her sister, Clare, who happens to be a medium. It's to help find out what the ghost needs to move on, why the paranormal activity is so strong right now.
My cranky face moments – Without saying too much here, so it makes little to no sense if you haven't already read the book, we have enough stigmatising of mental health, there are so many more topical, contemporary reasons that could have been used by the author in a more powerful way, this felt like a cheap shot. Also, romance readers are pretty cluey, we know what an anagram is, J T Geissinger.
The narrators were strong. Troy Duran has such a distinct, deep, gravelly voice that fit Aiden beautifully. He gave the characterisation a heartfelt, melancholy quality. But it's hard for him to do secondary characters easily because his voice is so distinct. He truly is leading man voice material. Tara Langella has a gorgeous, smooth voice for narration and did a nuanced job of a confused and at times testy Kayla. Of a torn woman. She also did an admirable job of accents, albeit with a little hybridisation between Scottish and Irish for the Sottish Fiona and Clare, but it's not easy doing accents. She made it work.
Overall: 
I've loved being immersed in Pen Pal for the past five nights. The experience has been memorable and I know the story will stay with me, a book is absolutely worth 5 stars when that's the case. I enjoyed this story, sharing it with Kayla and Aiden, discovering where this was going to go for them. How it would end. The author has a nice turn of phrase, good pacing, and had I read this as an e-book I guarantee that I would have had a few quotes on the sides and throughout my review, audiobooks make it more difficult to do that. Overall, I'm so glad I grabbed this in audiobook, Pen Pal is highly recommend listening. 5 Stars!