Audiobook: Nox (Wolves Incarnate, #1), Adrienne Wilder
Genre/Tags: Sci-Fi, Urban Fantasy, Mythology, Thriller, Dark Themes, Violence, Gay Romance, Erotic Content  
Author: Adrienne Wilder
Story Rating: 5 Stars
Narrator: Kirt Graves
Narrator Rating: 5 Stars
Length: 15 hours & 11 minutes
Audiobook Buy Links: Audible, amazon 
A nude man invades Luca Suarez's home and protects him from creatures who cannot exist.
Creatures hunting him.
The stranger can't tell Luca why. He can't even tell Luca his name.
He remembers nothing until the moment he sees Luca.
The only hint Luca has to the stranger's identity is a tattoo on his wrist: N o X
Nox doesn't know who he is, but he's sure of three things, his memory loss is temporary, the monsters chasing Luca are called Anubis, and his Alpha, Koda, sent Nox to protect him.
There's just one problem… Koda is Luca's brother who was murdered five years ago.
With each passing hour, Nox fills in the pieces painting an impossible truth. And with each passing hour, both men find themselves unexplainably attracted to each other.
Something Luca is willing to embrace because he has nothing left to lose.
And one Nox can't let happen because it could get Luca killed.
Nox is an HEA/HFN M/M paranormal, science-fiction romance.
But be warned, these are NOT the shifters you are used to reading about.
Review:
Adrienne Wilder writes good stories. Engrossing stories. Stories with characters you want to go out on a limb for. Maybe comfort. It all depends on the tale being weaved. Strange segue, but I also want to mention that I do love that cover. 
NoX is a story that grows in the best possible way as the backstories unfold and the characters fully develop. Sure, it's very easy to feel instantaneously for Luca, he has terminal leukaemia, his much loved older brother, Koda, died five years ago and his parents passed away not too long after that. He's all alone and hasn't lived much life. He's been surviving an uphill battle against the cancer that gives him approximately six months to live. Then, one unsettling night, a naked man turns up with a story that his brother has recently tasked him with protecting Luca and they need to leave. Now! Koda died five years ago, so WTH? Luca does end up going with the man because there are things out in the night that can't be explained rationally and this guy who has N o X tattooed on his hand knows something that only Koda could have told him. From here it's a road trip that has action and gore and history and several MCs with roles to play. It's a thriller and an absolute cracker of a Sci-fi-urban fantasy. 
Now Nox understood the strangeness of the Anubis he'd encountered at the farmhouse. These creatures were not born from the death of another. Where the vibration of recognizing his own should have been, there was silence.
How the hell was that even possible?
There are already over 2,000 ratings and a lot of Goodreads and Amazon reviews of NoX. Underneath is my two cents worth:      
First off, Luca's illness hit me hard. Leukaemia. It added a dimension of personal sadness for me. On top of that, he's never lived much life. He's been sick for a while. Never been with anyone. Never been in love or loved in return. Never been on a date. It makes for an interesting conundrum in one way because the relationship he develops with Nox seems so predetermined. Luca has to be protected at all costs. That's Nox's command from his Alpha. There's no ifs, buts or maybes.
Nox and Luca are now in forced proximity as they run from the "monsters" that dog Luca. However, there is far more to their relationship and their connection than first impressions. For me, I'm more than good with a very powerful MC protecting another. I'm also good with an alpha-beta relationship, but the dynamic in this story is different. To be a good alpha, according to the scientist's interpretation of the Book of Anubis, is to be kind, gentle and soothing to the pack. Everything Koda has been to Nox and Koda's pack. The soothing often happens in were or shifter stories from the Alpha being dominant. The Alpha in NoX is different. Koda gives stability. Feels their pain and takes it away. The betas are gritty, they tear and claw and bite, and this isn't any norm I've read previously. I also really enjoyed that Koda was given a strong posthumous voice. 
Aside from the Luca/Nox POV Dr Reese Dante and Colonel Harrington, who actually makes certain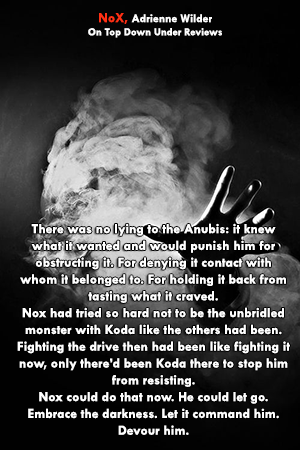 Dr Dante accompanies him to New World's Utah lab after a major event, form the other POV we follow throughout as the characters head towards a storyline intersection. Dr Dante is an idealist who initially joined New World Genetics with the dream of finding cures to terminal and debilitating illness. The Anubis ichor and the possibilities that the other primary research scientists on the project presented made him feel this was for the betterment of humankind, but like most of these stories, the big corporation makes the test subjects commodities. Dr Dante left as he became disillusioned, which left him even more troubled because he saw these men as more than a science project. He especially cared for and was close to Koda and is gutted by his death.
While the powers-that-be originally don't know exactly what's occurred in Utah, Dr Dante is there to fill them in on possibilities. Harrington needs Dr Dante's expertise around the project, about the Anubis, and how and why people working on the project are dead. The military need to know everything they can about the Anubis and the ichor and the science behind it. What were they doing, and why? Is someone else involved? The POV from Dante's and Harrington's side is tracking the data and tracking Nox – aka Nash Kelli – to get to the bottom of what's going on. Piecing together who the young man is with Nox, because, while we know, they don't know who he is for a while. After they do know he's Koda's younger brother, what is so important about him that Nox sought him out and is running with him after the chaos left behind in Utah? Where could they possibly be running to? 
There is a bit of death and destruction in NoX. Some bloody violence that is organically perfect for the story. There's a degree of science about this pack. The Anubis. String theory. The book is clever and holds it all together to make it seem a plausible concept, these men that are dead but reanimated to who they were previously – not zombies – with modified strength and exponentially heightened sensate abilities and input. They're perfect killing machines and Nox is the first born of subject zero, giving him a high degree of Phase ability the newer kids on the block don't have. They also don't have an Alpha who can soothe and help them keep it together. Plus they're missing the absolute key ingredient behind the first crop of betas.
The romance in NoX is good. Powerful. Erotic. I very much liked Luca with Nox. Nox isn't supposed to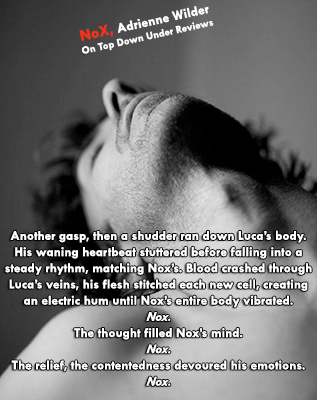 be able to feel for anyone other than his Alpha, but that manual is continuously rewritten for him the more he's with Luca, which is confusing for him. Luca wants everything with Nox, his firsts, to be able to live a long life with him the more he knows him. Nox, however, is scared of losing control. Scared of what the 'darkness,' the Anubis, will make him do. Even sex with someone who hasn't been given the Anubis ichor isn't something that's supposed to be possible because humans are incredibly frail compared to the Anubis. Because they're not programmed that way. The sex between the Alpha and his betas is the only necessary sex and it's primal, violent, brutal, and Luca couldn't survive sex with Nox. So Nox tries to keep his distance but, well, we all know how that goes, right?
Nox's memories are also fragmented, especially around the death of Koda. Around why he has to protect Luca and where he's taking him. Luca increasingly feels like he's known Nox all his life. Is it cross-pollination between brothers? Or is there something else going on? The next book in this series is out – Anubis – and I'm about to read it. The author says at the end that there may be more, which I'm hoping is 'there definitely will be more'. I get nervous when I start a good series and there is uncertainty about whether it will continue. I truly hope Adrienne Wilder keeps this series going. 
Oh yes, I both listened to the audiobook and read the e-book simultaneously. I listened more than I read hence it's the audiobook review on here. I actually enjoy reading this way if I can. I find it helpful for the eyes. At night I tune out to everything but the audiobook, during the day, if I have a chance, I try to read a couple of chapters. Kirt Graves does such a good job of giving multi POV. He has a great voice for Luca, Nox, Dr Dante, Colonel Harrington and any secondary characters who pop onto the page. His intonation is good – soothing, or edgy, passionate, with an understanding of the characters and story Wilder originally gave life to. He's an excellent narrator choice for NoX. The book does lend itself to audio because it is quite dialogue and action driven. The only issue I had is the word "huh?" is used quite a bit and it sounds really ordinary in narrated format. I also struggled that Dr Reese Dante kept me thinking cover artist, not scientist.        
Overview:
Adrienne Wilder writes an addictive, well crafted, different, intelligent, sexually raw, incredibly
intriguing book in NoX. The narrator was first class as well, making it a must listen to audiobook experience.
These are the kinds of books I live for and make me so glad they exist in this genre. The characters are amazing, larger  than life, this is especially so of Luca and Nox. Dr Dante grew on me as well. Wilder puts the pedal to the metal and delivers high octane reading. This author has never let me down whenever I've read them, been on my Books of the Year list as well. It's off to Anubis I go, all 500 odd pages of it. Meanwhile, NoX is absolute 5 Star reading.